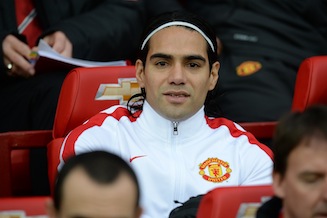 Manchester United manager Louis van Gaal has declared that Radamel Falcao must content himself with a bit-part role as the on-loan Colombian striker works his way back to full fitness.
Falcao has played for only 283 minutes since signing from Monaco on transfer deadline day and has scored just once, in a 2-1 win over Everton in early October.
The 28-year-old is short of sharpness following a month-long absence with a calf problem and Van Gaal told the Monday editions of several British newspapers that he will have to bide his time.
Falcao is expected to be named on the bench when United visit Southampton in the Premier League later on Monday, and when asked if the striker was happy with that, Van Gaal replied: "I am not interested in that. He has to follow my philosophy. Do you understand that? I am here because of that.
"I have selected him in spite of the fact he can only play for 20 minutes, because the rhythm of the game in the Premier League is the highest.
"It's match fitness (he needs). It would be a better contribution if he played with the second team, but I cannot do that because on Tuesday we had the match against Stoke and Wayne Rooney was injured.
"I had to adapt to the needs of the selection (squad)."
Despite Rooney missing the 2-1 win over Stoke due to a knee injury, Van Gaal selected 19-year-old James Wilson to partner Robin van Persie in attack, rather than Falcao.
Falcao has scored goals at a prolific rate for Porto, Atletico Madrid and Monaco, but he has not played regularly since damaging his anterior cruciate ligament in January.

Load more