Abiodun Onafuye/Abeokuta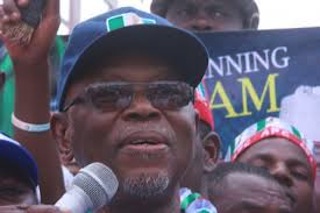 Ogun state chapter of the All Progressives Congress (APC) will on Tuesday hold the rescheduled primary elections to elect candidates that will represent it in the 2015 general elections for the House of Representatives in the three federal constituencies where the process was inconclusive during nationwide primary elections on Sundaay.
It would be recalled that the primaries conducted yesterday in Ijebu Central Federal Constituency (Ijebu Ode, Ijebu North East and Odogbolu), Ijebu North, Ijebu East and Ogun Waterside federal constituency and Abeokuta South Federal constituencies were marred by irregularities which resulted in the postponement of the elections.
In a statement Monday morning by Senator Adudu, Chairman of the APC Electoral Committee, saddled with the task of conducting National Assembly primaries in the state, the party noted that the elections will hold tomorrow.
The party further stated that the rescheduled primary elections are aimed at creating a level playing field for all the aspirants and to give opportunity to the qualified delegates to freely make their choice.
The party in the state, however appealed to all its members and the general public to co-operate with the Organising Committee in charge of the primary elections, so that the image of the party as a truly progressive platform can further be projected.
Load more