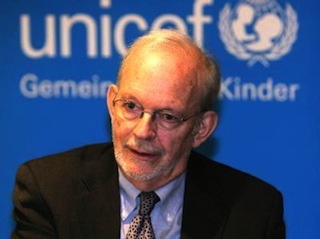 Millions of children suffered under extreme violence, destruction and forced displacement in 2014, the UN Children's Fund said in a statement on Monday.
UNICEF Director, Anthony Lake said, referencing children who had been kidnapped, tortured, raped or sold into slavery.
"Never in recent history were so many children exposed to such unspeakable brutality," Lake said.
UNICEF reported that over 15 million children suffered from violence in current conflict areas of Iraq, Syria, Gaza, Ukraine, South Sudan and the Central African Republic (CAR).
According to the aid organisation, tens of thousands of children have been forcibly recruited or abused by armed groups, and attacks on schools and hospitals in many places have increased.
UNICEF report said the 50-day war between Israel and the Hamas movement in the Gaza Strip killed 583 children and injured over 3,000, while in Iraq at least 700 children have been estimated to have been injured, killed or even executed this year.
According to UNICEF, civil war has affected over 7.3 million children in Syria alone, including 1.7 million refugee children, while the conflict in the CAR has hit 2.3 million people.
Report says the organisation estimates that 230 million children worldwide live in countries and regions experiencing armed conflicts.
Load more