Okafor Ofiebor/Port Harcourt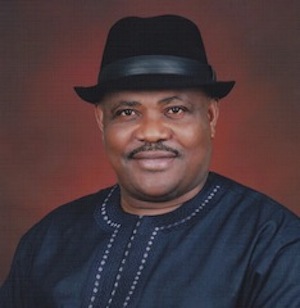 As expected, Nyesom Wike, the former Minister of State for Education has won the PDP governorship primaries in a contest boycotted by 16 aggrieved gubernatorial contestants of the Peoples Democratic Party, PDP. The election held at the Community Girls Secondary School, Mile 3, Port Harcourt had Wike as favourite.
In his acceptance speech, Wike said he dedicated the victory to Almighty God and the delegates who reposed confidence in him to fly the party flag in the state.
The venue of the primaries well secured by the Rivers Police Command and the anti-bomb squad.
Wike, Ben Dimkpa, Emmanuel Georgwill and Senator Lee Maeba were the only aspirants present at the venue.
The 16 governorship aspirants who have been agitating against the emergence of Wike are all insisting the party has been hijacked by members of Grassroots Development Initiative, GDI, who are footsoldiers of Wike, their sponsor and patron.
Speaking on behalf of other aggrieved aspirants, Pawariso Samuel Horsfall said "Everything about the governorships primaries was flawed, from the delegate election and to today's primaries.
"I have never seen where governorship primary of a national party is held in the bedroom of a particular aspirant,a community school"
In a similar vein, another aspirant, Dumo Lulu-Briggs has described the primary as sham exercise as no other aspirant except Wike, knew the delegates who were reposed with the power to vote.
On the eve of the governorship primaries, Chief Albert Samuel Horsfall, former Direct-General of the State Security Service, SSS had cautioned other aggrieved aspirants not to boycott the primaries or employ violence to pursue their political struggle.
Meanwhile, it was learnt the Peter Odili was also at the venue.
In his first official reaction, the chairman of Rivers state chapter of PDP, Felix Obuah congratulated all delegates and members of the party for a peaceful governorship primary in the state.
Impressed by the large turn-out for the primary election and orderly conduct by both delegates and aspirants, Obuah said the party has once more asserted its readiness and unity of purpose for the crucial 2015 general elections in the state.
The chairman also wishes to state that the victory achieved so far is only a stepping stone to the final battle and therefore calls for all hands to be on deck for the final victory.
Obuah who was silent on the boycott of the exercise by other aggrieved aspirants, congratulated Wike for winning the governorship ticket of the PDP and wished him a smooth successful victory in the governorship election proper.
Load more