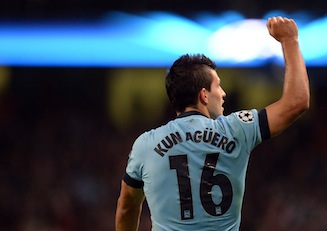 Manchester City manager Manuel Pellegrini gave the club's fans some welcome news when he announced injured Argentinian Sergio Aguero could be back some time in the New Year.
Aguero was expected to spend several months on the sidelines after injuring ligaments in his knee in the second minute of a 1-0 win over Everton last weekend.
But Pellegrini, speaking in Rome ahead of his side's Champions League Group E decider against Roma on Wednesday, said: "He will be out for four to six weeks. It depends on how he recovers.
"But our team does not depend on one player."
If confirmed, the news will be welcomed by City after some reports claimed Aguero could be out for the rest of the season.
With 14 goals, the Argentinian is the Premier League's top scorer and his treble in a shock 3-2 win over Bayern Munich a fortnight ago relaunched City's flagging campaign.
Roma need to beat City to book their last 16 ticket, but can also qualify with a draw as long as CSKA draw away to Bayern.
Thanks to their 1-1 draw at City in September, Roma can also go through with a scoreless draw against City, but only as long as CSKA lose to Bayern.
A win would see City through to the last 16 but any other result would see Pellegrini's side depending on results elsewhere.
Pellegrini added: "It is an important game. We have a good squad. We have made mistakes in the other games but we are fighting to qualify.
"I always expected a difficult group. I never expected easy games to play.
"If we can (win) against Bayern Munich, we can do it again tomorrow."
Load more