Swiss side, Basel need at least a draw, while Liverpool must win as the two clubs go head to head in a Champions League group match tonight at Anfield in London.
Liverpool manager Brendan Rodgers insists he has not contemplated the outcome of failure in their must-win Champions League match at home to Basel.
Nothing other than victory over the Swiss at Anfield will get the Reds through to the knockout stages of the Champions League.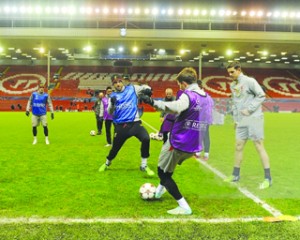 Despite the implications of what not achieving the first objective of his season – to get out of the group stage – will do to the fragile confidence of his squad, Rodgers will not countenance the idea of falling short.
"We are only focusing on the positive result," he said.
"We see it as an opportunity rather than a threat to anything we are doing this season.
"In my time here we have had games that were deemed as 'must-win' games and more times than not we have won them.
"We arrive into the game with great confidence that we can get the job done."
Meanwhile, Basel manager Paulo Sousa believes Liverpool may crack under pressure if his side make a fast start in tonight's showdown. Former Juventus midfielder Sousa, who managed Swansea City prior to present Liverpool handler Brendan Rodgers taking over at the helm, has no intention of playing for a draw because he is confident the Reds aren't mentally strong enough to respond if they struggle early on.
"We want to put them under pressure because in the last game (their 1-0 win in Switzerland) we were controlling possession and created good opportunities," the 44-year-old Sousa said on Monday.
"That is something we want to have in the match. Lots of personality, ambition, intensity in our game with and without the ball, and create difficulties which will allow us to have opportunities to score in the game.
"We will put them more under pressure and hopefully we can have another magical night where the performance will be outstanding and the result of the game will be in our favour.
"I am always looking for a win. In my leadership and feedback to the players it is always about playing to win."
Load more