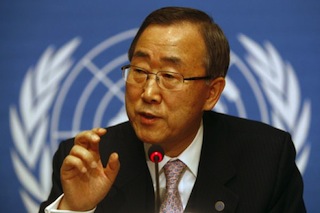 UN chief Ban Ki-moon urged nations Tuesday to seize a shrinking opportunity to tame global warming as ministers negotiated for a new world pact to slash soaring greenhouse gas emissions.
"There is still a chance to stay within the internationally agreed ceiling" of warming under two degrees Celsius (3.6 degrees Fahrenheit) from pre-industrial levels, the United Nations secretary general told negotiators in Lima.
"But the window of opportunity is fast narrowing," he warned, adding: "We can no longer afford to burn our way to prosperity."
Ban opened a high-level segment of the December 1-12 talks, with ministers bringing much-needed political muscle to the final four days of a fraught process.
Parties remain far apart on key aspects of a deal they have vowed to sign in Paris in December next year and implement from 2020.
"Our planet has a fever and it is getting hotter every day," Ban told journalists on the sidelines of the talks.
"This is our only world: we have a moral and political responsibility. We simply must find greener ways of powering progress."
Ministers went straight from the opening ceremony into their first talks Tuesday, kicking off with the tough issue of climate finance for the developing world.
This will be followed on Wednesday with the even thornier issue of "differentiation" — how to divide the burden for carbon cuts between rich and poor countries.
Ministers will also hold bilateral discussions with Ban, who nailed climate change to the top of the agenda in September by hosting a special summit in New York which yielded vows of renewed commitment.
"This is now the time to implement what they have said," said Ban. "This is the main purpose of (the meeting in) Lima."
The secretary general said he was "cautiously optimistic" of a "good result," but stressed: "That requires some political will."
– Key division –
The Lima talks have two main tasks: drafting a negotiating outline for the Paris deal and reaching agreement on the format for carbon-curbing pledges that nations are to submit from the first quarter of next year.
But negotiators do not see eye to eye on some basic questions.
Among them is climate financing and adaptation help for the developing world, and how to assess whether national pledges, combined, will place the world on target for the 2 C goal.
A key division is the concept of differentiation.
Developing countries want rich nations to bear a bigger share of the burden for curbing Earth-warming emissions, which requires a costly shift from cheap and abundant fossil fuels to less polluting energy sources.
But developed nations like the United States and Australia point the finger at major developing emitters like China and India that rely heavily on highly polluting fossil fuels — coal, oil and gas — to power their rapid growth.
Bolivia's President Evo Morales said the process was driven by "hypocrisy," with developing nations like his being sacrificed for the interests of profit and capitalism.
"It's not a dialogue among equals… we've been moved like pawns in a game," he said.
– 'Hell on Earth' –
Poor countries and small island states at high risk of climate change-induced sea level rises want guarantees of finance and assistance for adaptation enshrined in the new agreement.
But the European Union (EU) and other developed states say the focus must be on mitigation — jargon for emissions cuts.
Ban called for progress in "solidifying the climate finance regime," a prioritization of climate adaptation support to poor countries, and progress on a mechanism to pay for unavoidable loss and damage.
Scientists say the world is on target for warming of 4 C or more — a recipe for sea-level rises, more frequent floods and droughts, desertification and fiercer storms.
"Can you imagine what the world would look like, even with the lowest projection (of climate scientists)? I believe it will be Hell on Earth," Enele Sopoaga, Prime Minister of the island nation of Tuvalu, told delegates.
UN climate chief Christiana Figueres said history would judge negotiators not only by how many tonnes of greenhouse gases were finally cut, "but also by whether we were able to protect the most vulnerable, to alleviate poverty and to create a future with prosperity for all.
"That future is yours to create."
Load more