Jamiu Yisa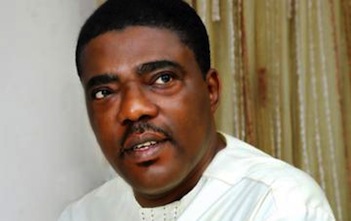 Senate Minority Whip, Senator Ganiyu Olanrewaju Solomon has reiterated his commitment and that of his supporters to the All Progressives Congress (APC).
Speaking this afternoon, Tuesday 9 December, 2014, in Ikeja while addressing his supporters after the primaries, Solomon, one of the 12 governorship aspirants who participated in Thursday 4 December 2014, governorship primaries in the state, told his supporters that he has accepted the result of the primaries in good faith.
"Let us just say, it is the will of God and we have accepted our fate," he said.
The Senate Minority Whip stated further that organising the primaries to pick the party's candidates was an indication that the party was moving forward.
"We insisted on primaries and you will all agreed with me that the primaries organised by the party this year is a clear positive departure from what we used to have in the past, though there are complaints in some.
We will surely get there, it is step by step," Senator Solomon said.
He reiterated that he and his supporters will not leave the APC, assuring that they will work for the party and its candidates. "In a contest where two or more jostle for one ticket, one person will surely win, irregularities or not. We will not leave APC and we will continue to work for the party's candidates in the coming election.
"We remain committed party members therefore we will continue to participate in its activities. Go back to your wards, remain in our great party, participate in its activities and continue to work for the success of our party," Solomon said.

Load more