Eromosele Ebhomele
Former President Olusegun Obasanjo on Tuesday disclosed in Lagos, western Nigeria, that it was some of the governors during his tenure as President that flew the kite for his third term agenda.
Obasanjo, who did not mention the former governors, said the former governors believed that they had much to benefit from him and that he knew what was happening then.
He also said he had revealed a lot of other things and urged those who had contrary evidence to make such evidence public.
He also mentioned two moments of his life which he called his highest and lowest moments.
The lowest moment, according to him, was the first coup in 1966, which he said was the beginning of the country's crisis.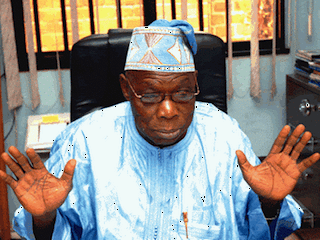 Prior to this time, he said at the launch of his memoir titled 'My Watch', Nigerians saw themselves as one, where ethnicity and all such negative evils were not pronounced.
"The lowest point in my life, one of them was the coup of 1966. Nigeria was like a closely knit family, we knew no tribe or section.
"My best friend was an Igbo man, but I never saw him as an Igbo man, I saw him as a man I could trust and relate with," he said, adding that this trust among Nigerians had for themselves began to wane after the coup.
"The high point of my life was when the war ended…Nigeria became re-united and the feeling of desolation that the people had at that time calmed," he added.
Obasanjo said despite all the challenges that the country had faced including the high level of insecurity, "God is still a Nigerian.
"When you look at what we have gone through as a country, 1964 we had an election, in 1966, a coup, then a civil war, then all was okay and we had coup after coup and then we had Abacha.
"Whatever situation we find ourselves through is not the act of God but He is seeing us through and that makes Him a Nigerian.
"Other countries have not experienced half of what we have experienced and today they are no longer a country," he said.
He also said he remains an incurable optimist about this country.
While answering a question from Kunle Ajibade, the Executive Editor of TheNEWS, Obasanjo called Ajibade his colleague, "not in the military, but in prison."
Ajibade was in prison for three years for demanding, with others, that former military ruler, Sani Abacha, should spare Obasanjo and others.
He also said the book was being launched legally and lawfully, saying the injunction secured by Buruji Kashamu held no weight as it was secured at 5p.m. while hearing was fixed for Tuesday, the day of the launch.
Prof. Ibidapo Obe, former Vice Chancellor of University of Lagos, who stood in for Christopher Kolade as chairman, said the country needed someone like Obasanjo to keep the country going.
"He is a staunch believer in the Nigeria Project. Despite our challenges, he believes there is a destiny for Nigeria and he has been working concerning this," he said.
Former Minister of Education, Oby Ezekwesili, also said it was time for the country's citizens to begin to ask questions.
According to her, Nigeria has underperformed compared with what it has and "it is clear that we need a new dawn. We should begin to ask ourselves what values we stand for.
"The season for us to outsource our responsibilities to God is over. I think God is now asking us to fix things ourselves. That is why these days I talk about the office of the citizens."

Load more