Daniels Ekugo
Nollywood actress Elizabeth Omowunmi Tekovi Da Silva a.k.a. Liz Da Silva, has revealed that she can act nude  in a movie if she is paid the sum of N1 billion.
Da Silva made the revelation in an interview recently when she fielded questions on her pet project "The Ankara Day".
"I can do anything in acting. There is no limit to what I can do on stage as an actress because I'm a professional actress and I don't care because that role I am playing is touching somebody somewhere.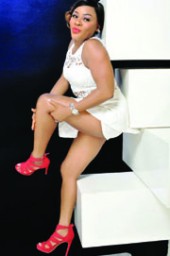 "If you give me a nude role that has something to teach people, and does not affect any culture and tradition, I will do it. That is why I am an actress. I don't care what people might say or think about me," she said.
According to her, her husband will never mind if she acted nude.  "I am sure my husband will be happy about it if he confirmed by account is loaded. People should keep criticizing while I keep spending the N1 billion largesse from the role," she added.
Speaking on her pet project  which comes up on 27 December, she said: "The concept behind Ankara Day is to promote unity of Africans through our culture, assist the less privileged through donation made on Ankara Day yearly, and to appreciate our culture through our way of life, for instance our mode of dressing, to keep our bond as actors.
"The programmes for the event include: choreography, stage play (pantomime), Ewi, panegyric music, fashion parade, dance troupe and musical performance. Popular Actress Toyin Aimakhu will anchor the event, while Wasiu Alabi Pasuma amongs others will entertain the guests."
Da Silva has produced few movies:  Ore l'ore Nwoto,  Desire, Itanje, Mama Insurance, Alebu kan, Mawo'badan  and Tasere which is the most recent movie
Load more