Eromosele Ebhomele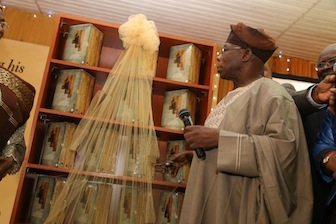 Nigeria's former President Olusegun Obasanjo on Tuesday released yet another bombshell against his successor, Goodluck Jonathan, when he revealed that the latter lacked "receptive ears."
Obasanjo who spoke at the presentation of a book: 'My Watch', which contains his memoirs, told the guests at the event that he decided to embark on public criticisms of President Jonathan because the president lacked listening ears.
"You will see a few letters I put in the book that were correspondence between me and the president and how I described my frustration of going privately to the president, taking up issues with him and getting no reaction.
"When I was president, I had my predecessors who would come to me, some with written notes and I would give answers and react and if I cannot give answers and react there immediately, I will say: 'give me time, let me do something' and I would react.
"That's the way I believe it should be. He should be able to come, talk to me and I give you an answer. You would see in the book some of my reactions in the past.
"So if you have audience but you have no receptive ears, then you must have another way of communication. That's what has happened."
Obasanjo also castigated the judge who had granted an injunction against the presentation of the book saying in saner climes, such a judge should have been sanctioned for going against the ethics of his profession.
Buruji Kashamu, one of the leaders of the Peoples Democratic Party, PDP, had secured an injunction against the presentation of the book as, according to reports, he believed that there are portions of the book that dents his reputation.
But while responding to a question on why he refused to obey the court injunction, Obasanjo told the guests he completed the production of the book three weeks before the presentation.
"The book had been printed and published before that man went to court. I don't regard that.
"Even the judge who gave him that order, in a normal society, a strong judiciary, he should be sanctioned and I hope something would happen.
Another thing you don't know is that the man went to court and today (the day the book was presented) was fixed for hearing.
Related News
"After that, he went to another judge to get injunction at 5:00 p.m. on Friday. What is that?
"If there is anything illegal, you know I won't be part of it. We are here lawfully, legally and we will continue to act lawfully and legally.
Obasanjo also used the opportunity to emphasise his love for Nigeria calling himself an incurable optimist in the Nigeria project.
He confirmed that the country was not finding it easy but that he believed that there is a headway.
The youths of the country, he said, feel betrayed just as he disclosed that someone had complained to him sometime ago that Obasanjo's generation had destroyed the chances in the country for the younger generation.
He said he understood the desperation to get things done, but that the youths must be patient.
"Things are bad, but don't let us raise our hands in desperation. Things are bad but we must get over them," he assured.
He however lamented that the youths in the country now lacked reading culture.
The former president blamed this problem on various channels on social media saying the use of these social media has now reduced interest in reading.
Advising them to take up the challenge of reading books, he warned that there was no way anyone could be a good leader if he does not read.
Obasanjo said he sometimes feels disappointed when people remind him of bringing late Umaru Yar'Adua and Jonathan to government at the centre stressing that he does not regret being "part of the instruments that brought them because as I have maintained, if they don't do well, their not doing well should be an object that those who would come should try to lear from and do well.
"What would really worry me more is if the young ones in whom we have hope for tomorrow follow some of the bad examples."
He recalled that as president, he surrounded himself with youths including Oby Ezekwesili, Nenadi Usman and Frank Nweke (Jnr), adding that, even though the ministers and aides were excellent, there were still some bad ones he would not want to mention.