Former Minister of Information, Labaran Maku has lost his bid to pick the Peoples Democratic Party, PDP, governorship ticket in Nasarawa State. He lost to Alhaji Yusuf Agabi.
Announcing the results of the primary election conducted to pick the party's governorship candidate for next year's election, Senator Adolphus Wabara, Chairman of the Electoral Committee said Agabi polled 214 votes, Labaran Maku, 160 and former Governor of the state, Aliyu Doma, polled 129 votes.
Sen. Solomon Ewuga got 31 votes; former Deputy Gov. Michael Abdul, 28 votes; Deputy Gov. Dameshi Luka, 12 votes, while Yakubu Bala and Chris Mamman polled 4 and one votes respectively.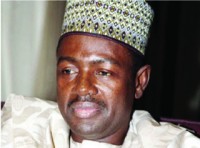 In his victory speech on Tuesday, Agabi called on other aspirants to rally round him to win the general elections next year.
He said the victory at the primary was not for him alone but for all members of the party, adding that it would take the collective effort to make the objective of reclaiming the state from the All Progressives Congress, APC, in 2015 to be actualised.
Agabi promised to tackle the security challenges facing the state, if given the mandate in next year's general elections.
Shortly after announcing the results, Senator Wabara urged the other aspirants to support the party's candidate in line with its commitment.
Wabara reminded the aspirants of the undertaking signed to rally round the winner even before the exercise began.
Eight aspirants contested the governorship primary, as one of them, Musa Hussaini, had withdrawn from the contest shortly before the exercise commenced.

Load more