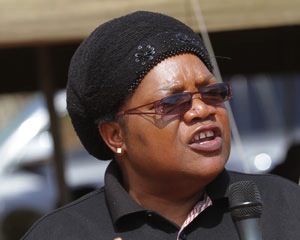 Zimbabwe's Vice President Joice Mujuru on Tuesday decried "a well-orchestrated smear campaign and gross abuse of state apparatus" that led to the loss of her ruling party post.
Mujuru, who once looked likely to succeed long-ruling President Robert Mugabe, has been accused of plotting to assassinate the 90-year-old and booted off the ruling ZANU-PF party's central committee.
Mujuru said she was being victimised after exposing infiltrators conspiring to destroy the party, which has ruled the country since independence in 1980.
"I have become the fly in the web of lies whose final objective is the destruction of ZANU-PF and what it stands for and ultimately the present government," Mujuru said in a statement.
"A vociferous attempt has been made to portray me as 'a traitor,' 'murderer' and 'sellout' yet no iota of evidence has been produced to give credence to the allegations."
ZANU-PF held an elective congress last week which endorsed Mugabe as president and his wife Grace as head of the women's wing.
Mujuru did not attend following threats against her and her sympathisers by members of the party's youth league.
"I decided to stay away from inevitable public humiliation as was meted out to other unfortunate members of the party," she said.
"It was important to maintain the dignity of the office of the vice president even in the face of such unwarranted violence by a section of the party membership."
In the lead-up to the congress, Mujuru came under attack after Mugabe's wife Grace claimed the vice president was extorting money from companies and that she was fomenting factionalism.
Grace Mugabe claimed Mujuru was incompetent and that Mugabe was doing the bulk of her work.
The ruling ZANU-PF has been riven by factionalism over Mugabe's succession although in the past party leaders have papered over the cracks.
Mujuru and powerful Justice Minister Emmerson Mnangagwa — who in the past controlled the secret police and military — were seen as the leading contenders to replace Mugabe.
Now with Mujuru apparently out of the succession race, eyes have turned back to 68-year-old Mnangagwa, who was named to the party's central committee.
Mugabe will this week announce his two deputies and members of the administrative politburo.

Load more