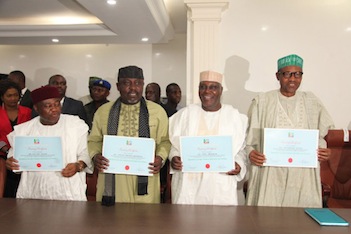 Its down to the wire and the 8000 delegates of the All Progressives Congress holds the four 'Aces'. Later today they will elect the presidential candidate of the main opposition party in Nigeria at the Teslim Balogun Stadium in Lagos.
Political analysts say its a straight fight between former vice-president Atiku Abubakar and former head of state, General Muhammadu Buhari but which of the other three aspirants — Rabiu Kwankwaso, Governor of Kano, Rochas Okorocha, Governor of Imo or newspaper publisher, Sam Nda-Isaiah will be the spoiler?
But by last night, rumours about one of the candidates giving delegates N500,000 each ($3,000) threw the Buhari camp into panic.
"Delegates may choose to vote for money. Or they may choose to vote for conscience," said an observer close to the convention.
Sources told TheNEWS that crucial meetings were held up till early today to steer the election to a Buhari candidacy.
According to analysts, Buhari will most likely get a block vote from South West delegates and the states under the control of APC governors, excluding Kano, which is expected to vote Kwankwaso.
Delegates from other states are not quite predictable, analysts say, which leaves the contest wide open.
In TheNEWS analysis of the vote, we however predict a Buhari victory in at least 21 states.
Lagos: Buhari
Ogun: Buhari
Oyo: Buhari
Kwara: Buhari
Osun: Buhari
Ekiti: to be split between Buhari and Atiku. Atiku predicted to have an edge here.
Ondo: Buhari/Atiku
Edo: Buhari
Delta: Atiku/Buhari
Rivers: Buhari
Bayelsa: Buhari
Akwa Ibom: May be split between Atiku and Buhari
Cross River: May be split between Atiku and Buhari
Kaduna: Buhari (Buhari's political base)
Katsina: Buhari (Buhari's home state)
Kano: Kwankwaso
Nasarawa: Buhari
Plateau: Sam Nda Isaiah, Atiku
Benue: Buhari
Niger: Buhari/sam Nda Isaiah
Zamfara: Buhari
Sokoto: Buhari
Kebbi: May be split between Atiku and Buhari
Adamawa state: Atiku solid here since Adamawa is home base. Buhari too will get some delegates here
Borno: Buhari
Yobe: Buhari
Gombe: Atiku
Bauchi: Buhari
Kogi state: Buhari/Kwankwaso/Atiku
Taraba: Buhari/Atiku
Jigawa: Kwankwaso/Buhari/Atiku
Imo state: Okorocha
Enugu: Okorocha/Atiku
Anambra: Buhari/Atiku/Okorocha
Ebonyi: Okorocha/Atiku
Abia: Okorocha/Atiku
http://thenewsnigeria.com.ng/2014/12/10/apc-presidential-primary-how-the-8000-delegates-will-vote/
Load more