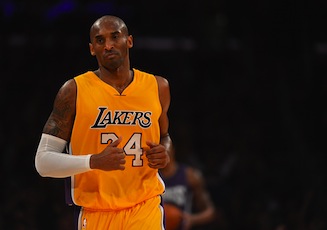 Kobe Bryant, closing in on Michael Jordan for third on the NBA's all-time scoring list, scored 32 points on Tuesday to help the Los Angeles Lakers to a 98-95 NBA victory over Sacramento.
Bryant scored 21 points in the second half, including a breakaway dunk and a three-pointer that knotted the score at 92-92 with less than four minutes to play.
Jordan Hill's layup put Los Angeles up 94-93 with 1:39 remaining. The Kings regained the lead with a basket from Darren Collison, but Bryant drained two free throws to give the Lakers a 96-95 lead.
Bryant wrapped up the scoring with two more free throws and Sacramento's Nik Stauskas then bounced a three-point attempt off the rim to end the Kings' challenge.
Although the lakers are enduring a tough season, Bryant came into the game averaging a league-leading 25.2 points per game, although he's shooting a career-worst 38.9 per cent from the field.
"I'm sometimes just shaking my head on how he can continue to go out there and deliver," Lakers coach Byron Scott said of the 36-year-old workhorse.
Bryant now needs 31 points to pass Jordan, with 32,292 career points, for third place on the NBA's all-time scoring list.
Only Kareem Abdul-Jabbar with 38,387 and Karl Malone with 36,928, scored more in their careers.
The Lakers visit reigning NBA champions San Antonio on Friday and Minnesota on Sunday.
Bryant and most of his Lakers team-mates donned black "I can't breathe" T-shirts for pre-game warm-ups, following other NBA players who with similar gestures this week have backed the protests over the lack of charges in the death of Eric Garner.
Garner, a black father of six suspected of selling untaxed cigarettes who was killed in a chokehold by police in New York in July.
Load more