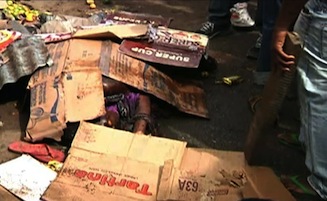 Police Command in Kano State has confirmed the death of six persons, including two female suicide bombers following a twin blast at Kantin Kwari market, Ibrahim Taiwo Road, Kano on Wednesday.
The Police Commissioner in the state, Mr Aderenle Shinaba, confirmed the figures while briefing newsmen at the scene of the incident.
He explained that the incident happened around 3:30 p.m. when the two female bombers in Hijab and wanted to enter a branch of Unity Bank near the market area.
He said that the security men attached to the bank stopped them because they saw them as people who should not have anything to do with the bank.
"They later moved away toward the market area and asked for public utility and immediately after, one of them detonated the bomb.
"Shortly after the first one was detonated, the second one went off and as a result six persons died including the bombers," he said.
He said that seven other persons were also injured during the incident and had since been taken to hospital for treatment.
"We have also taken the dead ones including the two suicide bombers to the morgue," the commissioner said.
He said that the area had been cordoned off to prevent hoodlums from using the opportunity to loot property at the market.
Shinaba said that the security agencies were working in conjunction with officials of the market traders to prevent people from coming under the pretext of sympathising with people to loot in the market.
"The police ordinance unit are already working to ensure that there was no laden explosives hidden somewhere in the market," he said.
He also called on people to be more security conscious in order to check the activities of insurgents in the state.
Load more