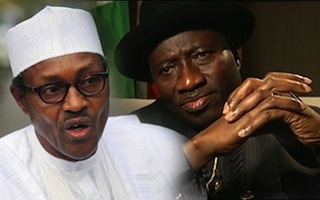 President Goodluck Jonathan was anointed the presidential candidate of the ruling Peoples Democratic Party at its two-day National Convention held in Abuja and it is now clear that next February's 2015 presidential election in Nigeria will be a rematch between Jonathan and Nigeria's former military Head of State, Muhammadu Buhari of the All Progressives Congress.
Both men slugged it out in 2011, with Jonathan clinching victory but Buhari claims he will be a different opposition this time.
To contest the election, he had to fend off competition from four other contestants winning comfortably. He polled 3,430 of 7,214 votes cast while Governor Rabiu Kwankwaso of Kano finished with 974. Atiku Abubakar polled 954, Governor Rochas Okorocha had 624 and Sam Nda-Isaiah finished with a paltry 10 votes.
Be the judge…who will you vote for?
Load more