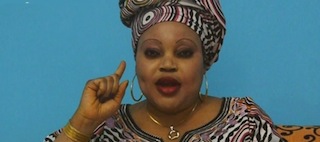 The Unity Party of Nigeria (UPN) on Thursday ratified the candidature of Mrs Dupe Onitiri-Abiola as the party's flag bearer for the 2015 Lagos State governorship election.
NAN reports that the candidate is one of the wives of the Chief M.K.O. Abiola, the widely acclaimed winner of the June 12, 1993 presidential election.
Her ratification as the UPN gubernatorial candidate for Lagos State took place during the party's congress at its secretariat in Lagos.
Addressing newsmen after the congress, Abiola said that she had the pedigree to challenge candidates of other political parties for the governorship seat.
She said: "The UPN has been around for a very long time. "This is the party that was founded by Chief Obafemi Awolowo and resuscitated by Dr Fredrick Fasheun.
"I am from the prominent Onitiri Family of Lagos and married to Abiola. I have a very great chance because the democracy Nigeria is enjoying today flows from the blood of Abiola."
According to her, she is contesting for the governorship position to make a difference in the lives of the citizenry.
"I am very optimistic of winning. We are going to start from ground zero because there is nothing on ground. The UPN stands for free education, free health care, poverty reduction and infrastructural development.
"It is ironic that some of the people who claim that they fought for this democracy are not doing the right thing. They know that MKO died so that the people of this country can live well and be happy.
"If you are claiming to be a part of that struggle, you have no reason to make people to suffer in this country," she added.
Earlier, the state Chairman of UPN, Mr Femi Ikuomola, who presented the party's flag to Abiola, said that she was endorsed by delegates across the various local government areas of Lagos State.
Ikuomola said that Abiola was picked because of her pedigree and integrity, adding that the party was optimistic of her success at the polls.
He said:"The UPN is a party with a clear manifesto which includes free education, healthcare, affordable accommodation and poverty eradication. We have the money in Lagos State to make these to happen.
"We intend to address the poor people who have been neglected to make Lagos a comfortable place for everybody."
Ikuomola urged residents of the state not to be swayed by cash gifts and other items that might be distributed by some parties to solicit for their votes.

Load more