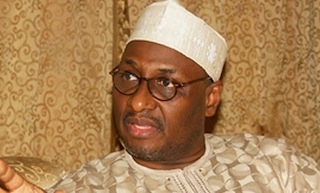 Delegates from the 36 states of the federation and the FCT at the Peoples Democratic Party (PDP) National Convention, on Wednesday ratified Alhaji Adamu Mu'azu, as the party's National Chairman.
The delegates returned Mu'azu through voting which eventually endorsed his appointment, following the resignation of Alhaji Bamanga Tukur, the immediate past PDP National Chairman earlier in the year.
Sen. Ken Nnamani, Chairman of the electoral panel, while announcing the result, said Mu'azu scored above two-third majority of valid votes cast.
NAN reports that Prof. Wale Oladipo, the PDP National Secretary and Mr Wole Olayanju, the party's National Auditor, were also returned by the delegates.
Their election was followed by a motion moved by Gov. Gabriel Suswan of Benue for the amendment of the PDP constitution to give room for fresh tenure for Mu'azu.
The motion was seconded by a PDP chieftain, Alhaji Mohammed Wakil .
While delegates comported themselves in an orderly manner amidst songs of victory, ambulances were seen at strategic points of the convention venue to handle any eventuality.
Security operatives were also on hand and ensured orderliness, to forestall any breach of peace.
The 3,073 delegates are also expected to ratify by voting, the endorsement of President Goodluck Jonathan as the PDP sole presidential candidate for the 2015 presidential election.
Mu'azu, in his speech, thanked the delegates and assured that he would ensure PDP continued to grow from strength to strength.
He said the convention was a true demonstration of the practice of democracy in the PDP, adding that members who were unfortunate at its just concluded primaries, should cooperate with others, to build the party.
He further said that the PDP had remained standing from its inception while the opposition party had continued to evolve.
"We had remained constant as the northern star with an encompassing membership and a true representation of the six geopolitical zones of the country," he said.
Mu'azu stressed that the PDP had positively captured the minds of Nigerians following its development and achievement in all sectors of the country's economy.
He added that the PDP had unquestionably fulfilled its manifestoe to Nigerians and had strived to ensure that every Nigerian, regardless of religious or ethnic coloration, was catered for.
According to him, the economy of the country under the PDP-government has recorded unprecedented growth and job creation for the teaming unemployed youths.
He added that building on the foundation of previous economy, the President Goodluck Jonathan-led administration had recorded unprecedented achievements in all sectors of the country's economy.
He enjoined members of the party across the federation to remain focused to its vision of transforming the country.
He assured that no matter where Nigerians were, the PDP would continue to ensure they were provided for.
He thanked members of the Board of Trustees (BoT), National Worknig Committee (NWC), delegates, party stalwarts and President Jonathan for giving him the opportunity to serve the party.

Load more