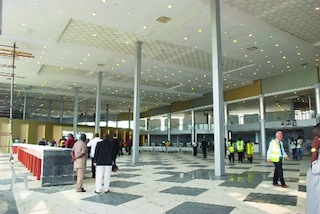 The Association of Nigeria Licensed Customs Agents (ANLCA) on Thursday said 75 per cent of the cargoes at the Cargo Terminal of Murtala Muhammed International Airport (MMIA) were still uncleared.
The association's President, Mr Aloysius Igwe, told aviation correspondents in Lagos that the two ground handlers were claiming demurrages for the goods not cleared within the period of the terminal's closure.
NAN reports that the terminal was reopened on Dec. 4, following an order given by the Comptroller-General of the Nigeria Customs Service, Mr Abdullahi Dikko.
NAN also reports that the two handlers are the Nigerian Aviation Handling Company Plc (NAHCO) and the Skyway Aviation Handling Ltd. (SAHCOL).
Igwe said that only 25 per cent of goods had been cleared so far by the companies, stressing that the stringent measures put in place by the customs was slowing down progress at the terminal.
"Unlike in the past where these goods would have been cleared almost immediately with assistance from clearing agents, it is no longer the same.
"In fact, some goods now spend extra days in the warehouses of the ground handlers due to insufficient personnel and the new measures put in place by the customs.
"Also, just few days ago, the management of the two ground handling companies threatened to impose additional charges on goods not cleared within a specific period.
"How can we clear the goods when the personnel on ground are not capable of discharging their duties as expected?"
However, NAHCO's General Manager, Corporate Communications and Branding, Mr Tayo Ajakaye, denied any planned increase in fees on the cargoes by the ground handling company.
He also insisted that the ground handler had enough personnel to accelerate cargo clearance within its warehouse.
Ajakaye explained that NAHCO, about a few weeks ago, employed 40 additional staff who were on training during the period of the closure and have now resumed work in cargo services.
The general manager said that 30 of the new workers were deployed to China Bulk Breaking; five to General Bulk Breaking and another five to Export Warehouse.
He added that these were in addition to the members of staff who work in those units before the closure.
On the dumurrage claim, Ajakaye denied additional fee by NAHCO, saying that for all shipments still in the terminal there was no demurrage paid.
He added: "These shipments are not in our cargo warehouse yet. For shipments that have been tallied and are in our warehouse before the closure, there would be no demurrage charged.
"For shipments whose documentation was completed and who have customs exit paper before the closure, no demurrage is charged.
"Only those shipments that have entered our warehouse and not yet tallied at the time of the closure would attract payment of demurrage.
"Even at that, of the total 16 days, eight days would be waived. However the waiver would only be given on the review of the cases on a case-by-case basis," he said.
Load more