Jamiu Yisa
With the emergence of President Goodluck Ebele Jonathan as the candidate of the Peoples Democratic Party, and General Muhammadu Buhari as All Progressives Congress, APC, standard bearer in the 2015 presidential election, Nigerians have been speaking about their preferred candidate among the two gladiators.
President Jonathan was on Wednesday endorsed as the PDP presidential candidate by his party at the Eagle Square venue of the PDP convention, which also ratified Alhaji Adamu Mu'azu as the substantive National Chairman of the party.
Buhari emerged as APC's candidate at its 3rd National Convention/Presidential Primary Election held at Teslim Balogun Stadium, Surulere, Lagos, Southwest Nigeria on Thursday. He polled 3,430 votes to get the ticket. Both will square up in next year's presidential election.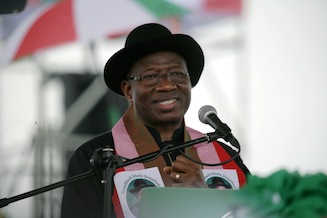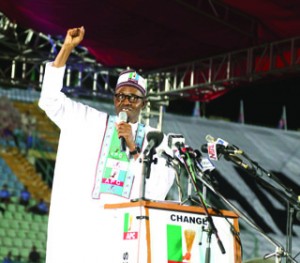 On the choice between the two candidates, Goodwin Ikande, said: "APC will lose more states in the southwest and Edo State. So, there's no way that Buhari could win in 2015. Nigerians are wiser today than ever before, mark my words."
Akagbue Isibor said: "the contest is open to both men, but with President Jonathan having an edge. North east 30/70 Jonathan/ Buhari; North west 40/60 Jonathan/ Buhari; North Central 80/20 Jonathan /Buhari; South West 60/40 Jonathan/ Buhari; South South 80/20; South East 90/10; This is my take. I predict a win for Jonathan."
According to Isaac Akindipe, "Buhari will win with a large margin. In the Southwest, Jonathan should forget winning. In the North, Buhari will garner not less than 75% of the total votes. Jonathan cannot win the election with the South-South and Eastern states alone. If Buhari is elected, the Easterners should wait for their turn probably after sixteen years. Its better they make a U-turn and support APC now. Good luck GMB."
Bello Bariga said "the answer is a resounding Yes. Change, change and change. There has never been any better time for change in the center in Nigeria than now. The majority of Nigerians want change. That is what Buhari has going for him. He will rideson the wave of change into Aso Rock.
"Buhari indeed got 11 million votes not even only without the support of any governor but also without the support of many Nigerians who became so undecided as to whom to vote for among many candidates from ACN, ANPP, CPC and several others in 2011. So, PDP then capitalised on that indecision of many Nigerians by employing some tactics which were based on sentiments (plus rigging) to make its own candidate victorious. But that won't happen again!
"Now that the majority of Nigerians have specific direction to go with the subsequent merger of those aforementioned political parties, which gave birth to APC, then Buhari will get virtually all the votes cast by Nigerian electorate. It has now become a duty of every well-meaning Nigerian to start campaigning for Buhari in all their communities, including mosques and churches. Buhari will, inshallah (by the Grace of God), be our next president in Nigeria," he said.
Abiodun Johnson said: "men and women, rich and poor, young and old, Christian and Muslim, Yoruba, Hausa, Igbo and all sorts of other tribes, all congregated in one stadium only and solely to see just one man live, Buhari.
"Now let the campaign begin from street to street, and neighborhood to neighborhood. If anyone prefers, let those that have access to bulk text messages use it to contact every Nigerian that has cell phones to vote Buhari, let those that have Facebook accounts use it to uplift Buhari, let those that have access to any social media start massive campaign for GMB, the right time is now. I will order one million flyers to be distributed throughout south west villages, just to do my part even if at end all effort fails. God bless Nigeria, God bless GMB," he said.

Load more