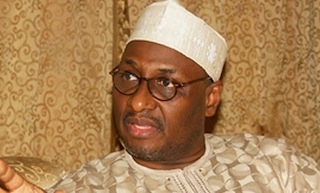 Senator Walid Jibril, Secretary, PDP Board of Trustees, said on Friday that the party had the ingredient to tackle the security challenges facing Nasarawa state.
Jibril told NAN in Lafia that the spate of wanton killings and anarchy pervading Nasarawa State would soon be over under a PDP government in 2015.
"It is PDP that has the ingredient that would solve the security problems and restore lasting peace in Nasarawa State.
"PDP government in the state would not condone incessant killings as being witnessed currently and would deploy all available means to ensure that the people live in peace and harmony like it used to be," Jibril said.
He expressed optimism that the party would reclaim the state in the 2015 general election, given the massive support it enjoyed amongst the people.
"You can see from the conduct of our primary election, the quest for the party's ticket by the number of aspirants for various elective positions and the enthusiasm of the supports, that the PDP remains the party to beat in Nasarawa State," Jibril added.

Load more