Abiodun Onafuye/Abeokuta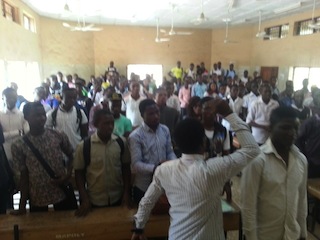 Nigerian students have been advised to stay away from greedy and desperate politicians who may be planning to use them to disrupt the forthcoming general elections in the country.
They were warned to shun any act of hooliganism or thuggery which could mar their future and dent the image of their families.
The warning was given Monday morning by the President of the National Association of Nigerian Students, NANS, Ogun State chapter, Comrade Okikiola Ogunsola during a prayer session organised by the body to commemorate its one-week long programme.
The programme tagged: "Students Unionism and Political Future of Nigeria" commenced today with a prayer session held at the Main hall 2 of the Moshood Abiola Polytechnic, MAPOLY, Ojere, Abeokuta.
In his word, the students union leader declared," this is election year and I want to advice you my colleagues that we should not allow ourselves to be used by these so called politicians to achieve their own goals. I believe you understand what I mean because they will be coming with bags of money to deceive us.
"Enough is enough, every time, it is the students they use but we need to think deeply and ask ourselves if we are truly the future leaders and what kind of leaders are we planing to become. These people will soon take their children and families out of the country to avoid been attacked but they will deceive us that they will do this and do that, which are all lies.
"It is high time we know what we are doing, our own parents are praying to see us achieve more than these people. If we ruin our future with token from these desperate politicians, what will be left for us in future.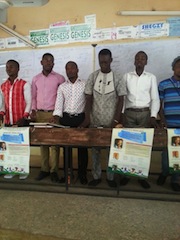 "We carefully chosen the topic of this programme considering the period we are in the country. Youths and students are always seen as tools of destruction but this time around, we must stand to our feet and reject greed, desperation and do-or-die politicians who want to win at all cost. We are agents of change and that we shall remain," Okiki Aluta, as the NANS President is been called gave the advice.
The NANS week programme continues tomorrow (Tuesday) with visitation to the Stella Obasanjo Motherless Babies Home, located inside Ibara Housing Estate, Abeokuta where beds and food items will be donated to the kids.
The association will be at the Igbeba Prison in Ijebu Ode on Wednesday where similar donations will be made to the inmates.
The event will come to an end on Thursday with lectures from various speakers after which Miss NANS beauty pageant and an award presentation to some eminent personalities in the state will take place.
The programme is scheduled to be held at the Valley View, Government House, Oke Igbein, Abeokuta, the State capital.

Load more