Okafor Ofiebor/Port Harcourt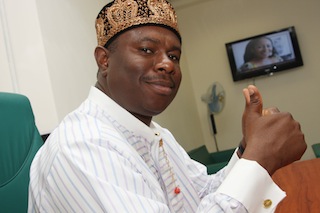 Dakuku Peterside, the governorship candidate of All Progressive Congress (APC) Rivers state has sent a 'Save Our Souls' message to security agencies in the to protect the lives and property of members of APC in the state.
In a statement signed by Mrs Ibim Semenitari, Director of Communications, Dakuku Campaign Organization, he pleaded that security agencies come to their aid. "Clearly, we cannot defend ourselves in the light of the kind of attack that we are witnessing. We are asking the police to please be on the alert and check those who are fomenting trouble in Rivers state and call them to order."
She said "The Greater Together Campaign Organisation" (GTGCO) is shocked to learn about the barbaric attack on APC supporters, lamenting that it's become a habit of the PDP to attack APC supporters at every chance they get.
"Otherwise, can you explain why APC supporters should be attacked on their way to attend the APC presidential rally in Port Harcourt.
According to the campaign organization, what PDP is hoping to do is to scare our people, such that they will not attend that rally.
"We have seen clearly a drive towards what they did in Ekiti, where they used intimidation and all kinds of things, hoping that they will scare away APC supporters from the election.
Dakuku campaign team sounded a note of warning to the PDP, to tell them that for the APC, their guns will not stop us, they can come out with all of their guns booming as they do, their guns will not APC supporters.
"If they think that they will plunge Rivers state into chaos, if they think that they will cause darkness in this state again , then they have to think again. Rivers people are wiser and will not be part of that," she said.