Nigerian Aruna Quadri who made history in world's table tennis yesterday has vowed to continue to work harder to justify the confidence stakeholders of the game have in him.
The Oyo State-born ping ponger was named the International Table Tennis Federation, ITTF, Star Player of the Year at the ceremony held at the Armani Hotel in Dubai.
Quadri claimed two awards ahead of players from Asia and Europe to get a standing ovation from the guests that graced the occasion.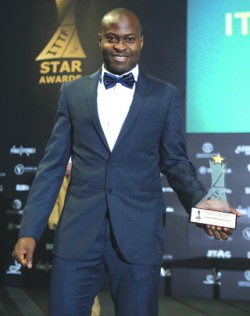 The world's number 30 ranked player was adjudged the best male player beating world number one, China's Xu Xin and his compatriot, Fan Zhendong, who is the 2014 Youth Olympic Games gold medallist as well as Portugal's Marcos Freitas, who is the 2014 European Team Championships winner and the first Portuguese player to be ranked top 10 in the world.
Also, Quadri's crucial winning point against Olympics and World Champion, Jan Zhike of China at the 2014 ITTF World Cup was adjudged the best in the Star Point category at the second edition of the award.
An elated Quadri described the award as the best in his career, while acknowledging the support he got globally from table tennis fans.
"This is the best day of my career and I want to thank the organizers for considering me for this. I also want to thank all my fans all over the world for their support because this is unbelievable for me and I promise to continue to work hard," he said.
The African Cup champion who started the year as world number 237 and ended it at number 30, which is the highest ever for an African player stated: "I feel so great to be the winner in the midst of the world's superstars. This award means the world to me."