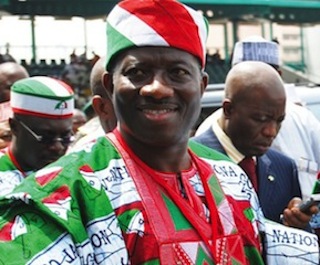 Nigeria's President Goodluck Jonathan on Thursday formally began his campaign for re-election, taking the fight to a key opposition stronghold with a mass rally.
The meeting in Lagos comes as Jonathan's Peoples Democratic Party (PDP) mounts increasingly personal attacks on his main challenger as well as lingering doubts about whether the vote will even hold.
Nigerians are due to elect a new president on February 14 but there are fears that polling could be ruled out in swathes of the country's northeast because of sustained Boko Haram violence.
The electoral body in Africa's leading economy and most populous nation maintains, however, that there were no plans to postpone the vote.
Sirens from convoys of politicians and dignitaries blared in and around the rally venue on Lagos Island from early morning in Lagos and commuter traffic backed up as delegates began arriving.
All roads to the venue were cordoned off and armed soldiers and police searched the crowds, many of them dressed in the PDP colours of red, white and green.
– Smear campaign –
Jonathan, 57-year-old southern Christian, is pushing for a second, four-year term, calling for more time to build on his first and complete his "transformation agenda".
"Goodwork in progress… Vote goodwork… vote Goodluck," proclaimed two-page advertisements in national newspapers on Thursday.
But the main opposition All Progressives Congress (APC) denounces Jonathan's presidency as a failure, highlighting his inability to end the Islamist insurgency and tackle endemic corruption.
Nigeria, Africa's top oil producer, is also reeling from a fall in global crude prices that has forced a revision of the 2015 budget estimates and a devaluation of the currency against the US dollar.
"Under his watch, Nigeria has become No 1 in broken promises," read one newspaper advertisement supporting the APC candidate Muhammadu Buhari.
In the world of Nigerian politics, where personalities count as much as ethnic and religious identity, the campaign has predictably descended into a smear campaign.
On Wednesday, Jonathan's campaign chief Femi Fani-Kayode described former military ruler Buhari as a "great danger" for the unity of the country.
The 72-year-old from the Muslim-majority north, who is standing for the presidency for the fourth time since 1999, "represents a return to an ugly past which is best forgotten", he said.
He also questioned Buhari's democratic credentials and described his record in public office as "shameful and disastrous".
Buhari ousted civilian president Shehu Shagari in a military coup in 1983 and his 18-month rule was characterised by a hardline stance on corruption.
"We do not believe that Nigeria ought to be run by a man that is not capable of tolerating dissent or by a political party like the APC that has no sense of remorse, restraint or decency," he added.
– Politically motivated –
The APC, a coalition of opposition parties, is seen as having its best chance of winning power since Nigeria returned to civilian rule 16 years ago and said the PDP was running scared.
"The real danger to democracy in Nigeria is Jonathan," party spokesman Lai Mohammed told AFP. "Before he came into office in 2010, Nigeria was a united country. But it is no more now…
"(Buhari) is also a good party man. The orgy of violence, armed robbery, killings, kidnappings and other forms of crime under Jonathan's watch is unprecedented in the history of Nigeria.
"We have more than 20,000 square kilometres (7,720 square miles) of our land now occupied by Boko Haram."
The opposition has previously denounced a secret police raid on its Lagos offices and the teargassing of opposition lawmakers outside parliament last year as politically motivated.
Nigerian elections have been characterised by political violence and there have been warnings that this year's vote could be no different.
This week, the APC claimed that Buhari supporters were shot as they made their way to a rally in the southern oil city of Port Harcourt on Tuesday.