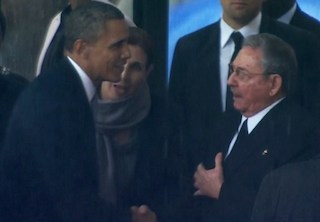 At least 35 Cuban political prisoners have been released in the last two days, dissident leaders said Thursday, as Cuba moves towards normalizing ties with the United States.
Washington and Havana announced a historic bilateral rapprochement in mid-December in which Cuba agreed to free 53 political prisoners as part of a deal to end a five-decade standoff with the United States.
Elizardo Sanchez, a prominent dissident from the Cuban Human Rights and National Reconciliation Committee, said his group had counted more than 35 prisoners who were released.
The releases are occurring "at a trickle and should continue tomorrow," he told AFP, adding that the prisoners came from several provinces.
Earlier in the evening, Jose Daniel Ferrer, leader of the Patriotic Union of Cuba (UNPACU), a dissident group based in the communist island's east, had said 30 people were released.
Both groups confirmed Wednesday that 18-year-old dissident twin brothers had been freed, one day after the US State Department said Cuban authorities had freed some of the 53 prisoners.
But State Department spokeswoman Jen Psaki neither specified how many prisoners were freed nor their names, and Havana has yet to comment on the sensitive matter.
For decades Cuba has accused dissidents of being US "mercenaries."
Several days after the historic reconciliation, President Raul Castro referred to them as "a few hundred individuals who receive money, instructions and oxygen from the outside."
At the time of the rapprochement, Cuban dissidents said some 100 political prisoners were languishing in jail.