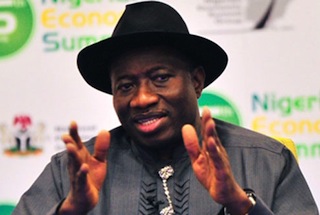 The Association of Nigeria-America Professionals (ANAP) has commended President Goodluck Jonathan for the steps taken to strengthen Nigeria's political and economic structures.
This was contained in a statement made available to the News Agency of Nigeria (NAN) on Sunday in Lagos by the group's National Chairman, Dr Ifeanacho Orabuchi.
The group was reacting to the President's speech at the flag-off of his re-election campaign on Jan. 8 in Lagos.
"President Jonathan touched on structural issues that will sustain the country's democracy; we are particularly delighted for President Jonathan's focus on the Nigerian youths.
"Without doubt, every segment of a country's population is important, but the youths are critical subpopulation a nation must cater for.
"They must be equipped to handle the complexities of leading various areas of the economy and various levels of the nation.
"Thus, we commend President Jonathan for this special emphasis on the Nigerian Youths," it stated.
The group noted that the focus on the youth was also important as they would provide the flank for future economic and political growth of the country.
According to ANAP, the Jonathan administration inherited a corrupt system, which he is now systematically dismantling.
It accused opponents of the administration of strangulating the growth of democracy, stating that the president has taken steps to strengthen it through the issuance of Permanent Voter Cards.