Kazeem Ugbodaga
The leadership and members of the Cherubim and Seraphim Movement Church Worldwide, Ayo Ni o,  have mourned the spiritual leader of the church, Prophet Gabriel Olubunmi Fakeye who died at the age of 78.
They described Fakeye, who died on Sunday morning in a hospital in the United States of America after a brief illness, as an icon and "a spiritual mentor to many."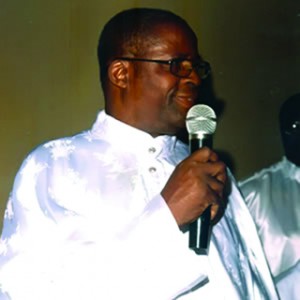 In a press statement signed by Special Apostle Pastor George Oluwadare Ogunleye, General Secretary of the C & S movement, the church described the late Prophet Fakeye as "a spiritual mentor to many," and had been the Chairman/General Leader of the District since inception forty-five years ago.
"A British trained Telecommunications Engineer by profession, General Leader as he was fondly referred to by the entire congregation, served in the Public Sector and the Private sector of the Nigerian Economy before focusing on full time Evangelism. Amongst his footprints on the sands of time were his popular Radio Evangelism tagged 'Edidi Iye' meaning 'Seal of Life'.
"His passion for the transformation of the Cherubim and Seraphim Church was unlimited. In spite of the unprecedented phenomenal growth of the Surulere District, he and the other elders remained committed to the Movement Arm of the Cherubim and Seraphim denomination and worked relentlessly to unite the different arms of the Cherubim & Seraphim Church into one body in Leadership, Liturgy and Worship. His commitment to Christendom and ease of life for worshippers through constant prayers and supplications was unparalleled," the church stated.
According to the statement, "in addition, Prophet Fakeye, a teacher and an evangelist was committed to building the society through strong articulation of religious tolerance and constant advice to those in power and authority to see themselves as God's representatives who eventually would give account to the creator. He was an advocate of good governance and an avowed anti-corruption crusader."
At the time he died he was a national executive member of CAN, the President of the Organisation of African Instituted Churches OAIC, and a very active member of the Nigerian Inter-Religious Council, NIREC.
"A Five Star General in the Lord's army, Prophet Fakeye served with full loyalty and never for once beat a retreat even in the face of threats and antagonisms. He was a great Prophet of God who touched the lives of many, young and old, male and female, rich and poor. An epitome of humility, he shunned huge ceremonial dresses and hero worshipping by members. He was a leader who led with zeal, passion and openness.
"Kind hearted he preferred to give rather than receive even from the extremely rich and highly placed in the society let alone extorting from them. Time cannot heal his demise in our hearts, only the consolation that he is in the bosom of Jesus Christ, who he loved, served and propagated. Our dear Baba Fakeye, even as we mourn your demise, we are still bold to say: AYO NI O. The Church, with the Grace and Mercy of God Almighty will continue to build on the imperishable legacies you left behind."
Fakeye was born in 1937. He was an engineer, who started preaching the gospel at his tender age. He was popularly called "Bro Aladura" in his youthful days and remained a preacher until his dying days. Even though he was advanced in age, he continued to administer the movement (Ayo Ni O) he founded.
Fakeye was a visionary leader with profound knowledge, grasp, and appreciation of history. He was renowned for his conviction and faith in the unity and greatness of Cherubim and Seraphim Church in Nigeria and the entire world. He was also a believer in the unity of Christianity worldwide, as he was not a sectional leader.
Until his death, he ran both television and radio programmes on a number of broadcast stations, including the G.O Fakeye television programmes featuring the secret of psalms and healing as a result of which he became a target of government scrutiny for these claims.
Prohpet Fakeye is survived by wife, a son, six daughters and grand children.

Load more