Abiodun Onafuye/Abeokuta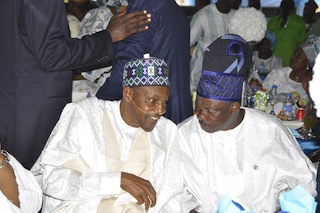 The All Progressives Congress,APC Presidential candidate,General Muhammed Buhari Tuesday morning met with Nigeria's former President,Chief Olusegun Obasanjo at his Hilltop residence in Abeokuta,the Ogun State capital.
Buhari, visited Obasanjo, alongside his running mate, Professor Yemi Osinbajo.
The former Head of State said that he came to solicit Obasanjo's support and blessing as he goes on in his presidential ambition.
According to him,"I have come with my running mate,who is also your son from Ogun to solicit for your support and blessing in our journey.You know this country far better than any other person and we believe that with your wealth of experience and support,APC will do more better than what this government is doing.
"The issue of insecurity,unemployment,economic matter,corruption and others will be tackled with all sincerity and we promisd to move this country to what you dreamt of about Nigeria,"Buhari said.
In his response,Obasanjo praised the former Head of State and wished him well in his presidential journey.
"Let me say that for those of you that are campaigning all over,it is better you tell the people what you will do for them,campaign based on issues and not on frivolity or abusive languages.Every party has its good and bad,which you always use to campaign against yourselves but when government is formed,we must all come together for the betterment of the country,"Obasanjo advised.
Some of the APC leaders that were in the entourage include the National Chairman of the APC,Chief John Odigie Oyegun, the party's national leader, Asiwaju Bola Ahmed Tinubu, Senator Barnabas Gemade, Chief Audu Ogbe,Senator Bukola Saraki among others.
The APC presidential train will also visit Ikenne and and ijebu-Ode, and then return to Abeokuta for the rally.

Load more