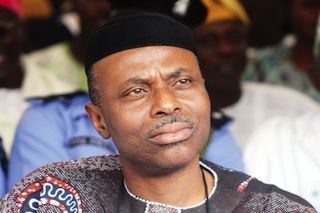 Governor of Ondo state, Olusegun Mimiko has insinuated that the presidential candidate of the All Progressives Congress (APC) Nigeria's main opposition party does not know how to use a computer, adding that, he has old ideas that are not required to rule Nigeria,
Mimiko, who doubles as the South West zonal coordinator of President Goodluck Campaign Organisation, said Buhari cannot be president of the country because he is a computer illiterate.
According to Premium Times, while addressing supporters of the Peoples Democratic Party, PDP, at the party's presidential campaign rally in Ibadan, Oyo state, Mimiko said Nigerians were looking for a well-educated president who would drive development in the country.
"They don't belong to this generation. Some of them cannot even click a computer yet they want to be president in Nigeria in 21st century. We say no. we say no, I don't have much to say. We want a 21st century compliant president," he said
"Some violent politicians are claiming ownership of South West but I do tell them that such ownership does not extend to Oyo state.
"Have you seen how massive we are? They say they want to rule you again. Ask them what they did for Nigeria, for the youth, for women, when they were there.
"The only thing he did was locking up their leaders like Adekunle Ajasin and Chief Olabisi Onabanjo for 300 years. Is that what you want?"
He then stated that Nigeria's president must be well educated. "We don't want those that should have retired to playing with their grand children at home to be our leaders."
It would be recalled that Nigeria's president and PDP presidential candidate, Jonathan had accused Buhari of not knowing his mobile telephone number during a rally in Enugu state on 9 January.
Buhari, only last month opened an official Twitter account and on his profile it states that "Personal tweets are signed – GMB"