As Nigerians prepare for this year's general elections, former miltary Head of State, General Abdulsalami Abubakar, has called for a change in the way the country is governed.
In a statement which he addressed to Nigerians and published in some national dailies on Wednesday, Abubakar stressed the need to tell truth to power in order to help correctly identify and diagnose the causes of disaffection and anger in the land.
The former head of state, who handed over power to the civilian government of Olusegun Obasanjo in 1999, stated that Nigeria is at a crossroads, unsure of which way to go.
"There is palpable desperation everywhere in the land; we are in a situation in which everyone is dissatisfied with what is going on, but nobody is sure of what to do, or what is going to happen next," Abubakar stated.
The retired general listed the dangers facing the country to include danger from an intractable insurgency, danger from elite mistrust and danger from poverty and penury as a result of glaring economic hardship.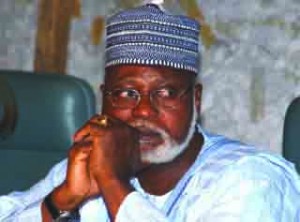 These, he said, had led to a situation where the rich cannot sleep because the poor are hungry, angry, and awake.
Referring to the Boko Haram onslaught against Nigerians, Abubakar asked why the matter was allowed to degenerate to this level.
"This nation has suffered greatly and lost thousand of lives to the Boko Haram insurgency, with more than a million people displaced within the country, and tens of thousands have been forced across our borders into neighbouring countries.
"In one of the most senseless attacks, more than 2,000 people were said to have been killed in a single attack in Baga town of Borno State last week. This is clearly unacceptable, and we feel the time has come to restore the people's confidence in the ability of government to confront, repel and put a stop to the impunity of the insurgency," he stated.
Abubakar also advised President Goodluck Jonathan to ensure that the military and security forces were sufficiently equipped to confront the insurgents.
He urged the president to consider the mobilisation and re-absorption of all retired able-bodied security personnel and undertaking fresh recruitment into the police force and other para-military agencies.
General Abubakar also warned politicians against do-or-die politics, stressing that Nigeria is greater than the ambition and ego of any of its citizens.
"We must force our politicians to accept and learn to play by the rules; and in their politicking adopt the highest ethical conduct, especially during campaigns and the conduct of the elections themselves.
"The inordinate ambition of some of our politicians, especially their do-or-die attitude in their quest for power, their way of subverting the electoral process in order to get to power must be checked by this nation or else they will terminally checkmate it.
"All  Nigerians of goodwill must, therefore, rise to tell politicians and, indeed, all Nigerians that Nigeria is greater than the ambition and ego of any of its citizens; and at every encounter with whoever, this nation must prevail," he said.