The lawmaker representing Apapa constituency 2 at the Lagos State House of Assembly, Mufutau Egberongbe, is one of many Nigerians not happy with the country's situation as reflected in this interview with Eromosele Ebhomele
Early in 2014, the presidency denied that the country was broke. How would you analyse the current situation?
The first inkling that the country was broke came from Senator Oluremi Tinubu and Governor Adams Oshiomhole. They affirmed that the Nigerian nation was broke and that the states had not been getting their allocations as and when due. I also recall that Senator Tinubu said then that they can't get money for international seminars as legislators. And the almighty Ngozi Okonjo-Iweala said it was not true. She argued that the economy was healthy. But to my surprise, it is this same Okonjo-Iweala that recently came out to say that we are tending towards austerity measures in a jiffy. Even at this, I am not too surprised because the way the Jonathan administration manages information calls for questioning. Maku (former Minister of Information) would at a time give information, especially as it affects the issue of security, then the Defence spokesman would give another explanation on the same issue, especially as it affects lives and property. The abduction of the Chibok girls is a good example. At another time, it was the issue of amnesty and the issue of sheathing the sword; all these have often met contradictions. This is not good for Nigeria. We should be able to give accurate information on the state of the nation.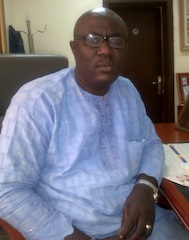 You recall well that even the now Emir of Kano (Sanusi) raised issues about some missing fund. While they agree that money was missing, they do not agree on the actual amount that was missing and in accounting, you make accountability to the nearest kobo a watchword. This is really worrisome for us. No serious-minded investor would want to do business in an area where there is no accurate information on basic things as they affect lives. The primary responsibility of any government is the protection of lives and property. If you begin to shirk in this responsibility like the PDP is doing now, then it is time to send them out of government. This is not about partisan politics but our existence as a people.
Days ago, former President Olusegun Obasanjo accused the current government of depleting the Excess Crude Account and the foreign reserve, but the government denied his allegation. Do you think Nigerians should take Obasanjo serious?
Whether the statement was political or personal, the message is what is important. Do we agree that there were reserves during his time and that something has happened to them now? Do you expect this government that epitomises corruption to have reserves? Do you expect a government where billions of naira can be missing from its coffers to have reserve? Do you expect a government where billions were spent by the Minister of Aviation not even to procure an aircraft, to have reserve? The handwriting is there on the wall. Tell me for once, even when we say the EFCC under Obasanjo was selective, it was still able to apprehend some individuals who were corrupt, but this one is not selective, yet you cannot even point to any fight against corruption as far as this administration is concerned. And an administration that would not even tighten its loopholes, that is corruption-riddled, can never have a reserve. This is very simple and I want to think that the challenge here is that Jonathan was not ready to take the lead as the henchman; he was just satisfied being a spare tyre and never took time to understand the system or how to call the shots. Don't forget that he was a deputy governor, then governor, then Vice President and President. Circumstances would always put him where he was not prepared for. What I am saying in essence is that a corrupt government can never have reserve.
You are a member of the ruling party in Lagos and the opposition when it comes to government at the centre. How prepared is the APC for the 2015 elections?
Honestly, without mincing words, when you look at the antecedents of the party throughout the states it controls, starting from Lagos State, you wouldn't need anyone to tell you what the party stands for. Do you for once reflect on how incidents of armed robbery took over the state in time past and how the government assisted in quelling it? Do you recall how freely we've been having our Christmas and other festivities? See what is happening in Ogun State in terms of infrastructure and how the governor is adding value to ownership of properties in relation to titles of land and such and such others for the benefit of the people. This would help land owners access funds easily and invest and add to the economy since with such documentation, they now have collateral. See how clean Oyo State is today and recall that is was about the dirtiest in the country. See what Fayemi did in Ekiti, see what Aregbesola has turned Osun into and see the revolution in Edo.
For an incumbent, governance should not be what you want to do, but a reference to what you have done and as an indication to what you are capable of doing. This majorly is what the APC has done. Then look at the calibre of the people in the APC that are aspiring for offices; you and the PDP agree that Buhari is a corrupt-free person, a disciplinarian and this is the core of what we need now. See Osinbajo, a lawyer of lawyers, technocrat and God-fearing man. I can assure you that we can never have it better than this to salvage Nigeria for the last time if you wish. We should just embrace this opportunity. God has used Tinubu to also draw a road map into our future, and opportunities like these come once in a century. So let us cash in on this and we would not regret.
How about Lagos? There is the fear that Akinwunmi Ambode, the APC candidate, may not have it smooth because of Jimi Agbaje.
For once, what I want you to note is that our party is not built on an individual, but an institutional framework that would drive issues. It is a team. When you manage business activities, of what magnitude and size? Is your business run on the size of the budget of the state that runs into hundreds of billions? Have you been able to manage human resources of the magnitude that we have in the state as well as the teaming population? These are some of the things you put into consideration. Ambode has been in government for years and understand the workings of the government. He was the one who assisted the state to shore up the internally generated revenue that Governor Fashola has built on; so you definitely can't compare the two of them.
If you want to campaign for your presidential candidate, Muhammadu Buhari, what are the issues you would be looking at?
The first would be that the Nigerian government has failed in regards to security of lives and property as enshrined in the constitution. Once you have failed in that, then you have failed, there are no two ways about it because no business would thrive, no economy would be buoyant in an insecure environment. So he would tackle frontally the issue of insecurity. Then there is the issue of manpower development that is rooted in education that is in turn tailored to the needs of the society, education that would make us build our own refineries, education that would take us to the farm and make us have reservoir of products, education that would make us compete with the world in terms of technology and advancement. Also look at the issue of unemployment. There should be social welfare for people including the aged and vulnerable so that life can be abundant for all. Then we must be serious at tackling corruption instead of the lip-service that we continue to see.
We've heard the President accuse people of making volatile statements….
What has he done to the likes of Dokubo Asari that says Nigeria would be on fire if Jonathan is defeated? There are others too. This man should just be serious, he is a young man, just in his fifties, but he is behaving like a 90-year-old man.
How did we get to this sorry state where the fall in the price of crude oil is unsettling the nation this much?
My friend, we have all been saying that a mono source of income cannot survive a nation of over 150 million. We said we must look at other ways of generating revenue aside from crude oil. Crude oil is even a very weak source and only protects the weak people that have nothing upstairs because all you do is just dig the crude and make money. We have left all other mineral resources including agriculture that can fetch us money. So, there is no time we would not have found ourselves in this state today. Even monies accruing from this crude oil are not tailored to the needs of the society. They are only squandered or stolen. America is no longer buying your crude oil, the country has even found oil called shale oil and now, most of their cars are now being powered via hybrid. So the need for your oil is no longer popular. If China and Brazil decide tomorrow to stop buying oil from you, you would pack up as a people or a nation. So what we should do now is what is moving the world economically and this is to build the brain, impart knowledge in the people. We must start thinking about knowledge-based economy and we can only do that by making sure we have the right kind of education and people must have access to it.
You think your party can do that?
We have always been at the fore-front of this. Look at the revolution Governor Aregbesola of Osun State brought to education system, in Lagos, we have the school of vocational and technical education which I know is in a relationship with the United Kingdom. We really need to revolutionise our activities. I tell you now, the strongest economies in the world today are knowledge-based. Go to Singapore, our crude oil is taken there because they built their own refineries themselves, then they come back to sell to us. And don't forget that we have other subsidiary products from crude oil. That is how powerful knowledge can be. Nigeria now imports even tooth-pick. We got to where we are because we are not serious as a people. We missed the track because we have made ourselves prodigal people.
President Goodluck Jonathan says he has a policy mapped out against corruption and if re-elected, he would fight corruption…
I will have to put the question back to you; after how many years of being in office? It is laughable that he is just waking up to tackle corruption. Was he able to tackle the one in Securities and Exchange Commission? What about Stella Oduah who was in the Aviation sector? And then the almighty Petroleum Minister, Diezani Alison-Madueke? Those are the ones we see; how many more can we name? Let him just name one person he has dealt with so that I can begin to believe that if he is re-elected, he would do wonders in that regard. He needs to just go home because he is tired; he does not look like one who is serious. He should allow dynamic hands take over the country and lead it to the next level.
Former military ruler Ibrahim Babangida was recently quoted as saying his government could be described as saintly when he considers the level of corruption in the country today. How do you analyse this statement?
It is the truth even though it was a military junta. With the sorry state of our nation then, you can't even compare then and now. This is, no doubt, the most corrupt government we have ever had in the country. You can hardly hear of the Economic and Financial Crimes Commission, EFCC, again. The Independent Corrupt Practices and Other Related Offences Commission, ICPC, has become moribund. You don't even hear of them. So what are we talking about? Even the Nigeria Police that should help out, all they do now is to ask one Speaker not to go out and do his job and the Inspector-General now interpreting the law even more than the lawmakers.
There is a clamour, even in the international community, that the soldiers sentenced to death for mutiny should not be killed…
I don't support taking their lives on the premise that I know just like you know that those guys were not properly equipped to face the Boko Haram. They have simply asked you: "give us weapons to go and fight" and you declined. We know what the military officers are facing where allowances are never paid to those who went for such missions. Those that died too, their wives were not able to access their money. Don't let us play politics with it; those guys were rearing to fight. I read how some called themselves scorpion ready to sting; they found it as an adventure. But they were demoralised. When all other things are involved, you call it mutiny but where they are ready to work and you do not give them the tools to work with, then it is something else. I think it is the authorities that should be brought to book and not these boys.
But the PDP accuses the opposition of links with Boko Haram…
If we should assume the opposition has a link with Boko Haram, then what is the duty of the authorities? Why the politics? The statement is just a way the government at the centre had been shirking its responsibility of securing lives and properties. You should be able to defend your people from internal and external aggression. If it is true that the opposition has a link, they should have long ago apprehended them and tried them rather than these statements of failure they have resorted to. I have never seen this level of politicising the Nigerian military. In the days of Babangida and others, we never saw the military like we see them these days even when it made incursion into governance and that is a very dangerous trend.
But the argument in some quarters is that President Jonathan means well for the country but that he is being frustrated. Don't you think so?
Only a shallow-minded person would think like that. What is the meaning of leadership and, in this case, the position of President of Nigeria.  As a leader, the assets and liabilities all lie on your table. As a leader, if you find anyone that is doing well, you commend, but if you find anyone that is being a clog, then you whip, because the buck stops on your table. That excuse is very childish and elementary in leadership. A leader should always be empirical in evidence.
As the elections draw nearer, what do you advise Nigerians?
Honestly, I do not know what people see that makes them think the country could break up in 2015. But I want to think some of the major indicators that made them arrive at that speculation are manifesting. Till today, we have not found the Chibok girls, see what cattle rustlers are doing, kidnapping everywhere, the high level of corruption that have remained unchallenged. With all these, all we must think of is to try and get things right this time around. Just vote out this PDP government. Otherwise, we Nigerians would be the ones to suffer for it. We are already facing austerity. And this is just the beginning except we have leaders who are disciplined and have the character and capability to lead.

Load more