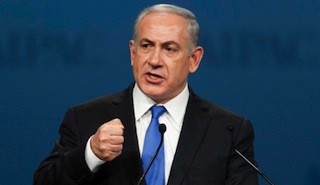 Israeli Prime Minister Benjamin Netanyahu on Wednesday hit back at Turkish President Recep Tayyip Erdogan who blasted him this week for "daring" to attend an anti-terror solidarity march in Paris.
"I believe his shameful remarks must be repudiated by the international community, because the war against terror will only succeed if it's guided by moral clarity," Netanyahu's office quoted him as telling visiting leaders of the US pro-Israel lobby AIPAC.
Netanyahu, as well as Turkish Prime Minister Ahmet Davutoglu, joined other world leaders at Sunday's Paris march in memory of 17 people killed in Islamist terror attacks last week, among them four Jews.
At a news conference in Ankara on Monday with Palestinian president Mahmud Abbas, Erdogan said he could "hardly understand how he (Netanyahu) dared to go" to the massive march in the French capital.
The Turkish president urged Netanyahu to "give an account for the children, women you massacred" and accused him of leading "state terrorism" against the Palestinians.
In his retort on Wednesday, Netanyahu said: "I've yet to hear any world leader condemn the comments by Erdogan, not one.
"He said that Israel should not have been represented in the march in Paris, and the reason he gave, was our actions to defend our citizens against the thousands of rockets hurled at our cities by the terrorists of Hamas," he added.