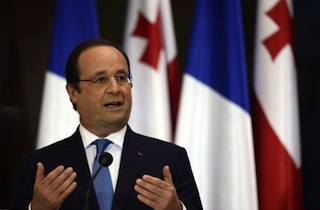 French President Francois Hollande said Thursday that Muslims were the "main victims" of fanaticism, as five of the 17 killed in last week's Islamist attacks in Paris were laid to rest.
Speaking at the Arab World Institute in Paris, Hollande said: "It is Muslims who are the main victims of fanaticism, fundamentalism and intolerance", adding the whole country was "united in the face of terrorism."
The Muslim community in France, Europe's largest, have "the same rights and the same duties as all citizens" and must be protected.
The five burials included those of two of Charlie Hebdo's best-known cartoonists, as the satirical magazine continued to fly off the shelves, sparking fury in some parts of the Muslim world for depicting the Prophet Mohammed on its cover.
Georges Wolinski, 80, and Bernard "Tignous" Verlhac, 57, were buried at private family funerals after they were gunned down by two Islamist brothers in last week's attack claimed by Al-Qaeda.
After the shooting at the magazine, which killed 12 people, the French rushed to get their hands on the "survivors' issue" which sold out Wednesday before more copies of an eventual print run of five million hit newsstands.
Long queues formed throughout the country again on Thursday as copies again quickly ran out.
"Charlie Hebdo is alive and will live on," Hollande said Wednesday. "You can murder men and women, but you can never kill their ideas," he said, declaring the previously struggling weekly "reborn".
The Charlie Hebdo assault on January 7 was followed two days later by an attack on a kosher supermarket in Paris by a gunman claiming to have coordinated his actions with brothers Said and Cherif Kouachi.
In all, 17 people died over three days in the bloodiest attacks in France in half a century, which ended when commando units stormed two hostage sieges and killed all three gunmen.
In Wednesday's new edition of Charlie Hebdo, the prophet is depicted with a tear in his eye, under the headline "All is forgiven". He holds a sign reading "Je suis Charlie" (I am Charlie), the slogan that has become a global rallying cry for those expressing sympathy for the victims and support for freedom of speech.
Meanwhile debate was mounting in France over where freedom of expression begins and ends.
Millions rallied in support of free speech after the assault, while French prosecutors, under government orders to crack down on hate crimes, have opened more than 50 cases for condoning terrorism or making threats to carry out terrorist acts since the attack.
They include one against controversial comedian Dieudonne, who was arrested Wednesday over a remark suggesting he sympathised with one of the Paris attackers and will stand trial.