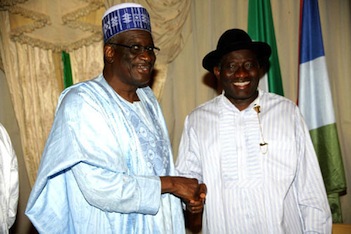 Hours after President Goodluck Jonathan inked a peace pact with his All Progressives Congress counterpart, Maj. General Muhammadu Buhari over the February elections, a Jonathan's surrogate in Sokoto state threatened fire and brimstone at the party's rally.
A former minister of defence and chairman of the PDP, Dr. Bello Haliru Mohammed, who represented Jonathan at the inauguration of the PDP's campaign in the northwestern state said the PDP has all the strength, security apparatus and power at its disposal to deal with the opposition.
Mohammed told party supporters who witnessed the kick off of the campaign for the governorship candidate, Senator Abdallah Wali, also told supporters of the party not to compromise their faith in PDP.
The threat comes a month to the 14 February presidential election, with the party battling many defections in the state.
Haliru said that the party will not succumb to any form of political intimidation by the opposition, stressing that PDP since the PDP is in control of government and all security agencies, nothing will be left to chance in securing victory.
" We will not allow any breach of peace", he said.
" PDP is working tirelessly to ensure credible representations at all levels come February. We are offering Nigerians our best. All we need is your mandate to consolidate national peace, stability and development where our teeming youth will smile", he said.
President Jonathan will be in Sokoto next Monday in continuation of his nationwide campaign tour.
The National Chairman of the party, Alhaji Ahmed Adamu Mu'azu represented by the Northwest Zonal Vice Chairman, Ambassador Ibrahim Kazaure said Abdallah Wali was a popular member and candidate of the party whom he described as credible and able hearted man that had the character to deliver the state for PDP.
" We are most appreciative of the Bafarawa led efforts", he said.
Similarly, former ANPP governorship candidate in 2011 general election in the state, Alhaji Yusha'u Ahmed Kebbe expressed hope and optimism that Wali was capable of restoring Sokoto state's lost glory if given the mandate.
" Most of us are confident that our candidate has all it takes to move the state forward", he stressed.
Ahmed who defected from the APC also urged people of Sokoto state to face the challenge of ensuring the success of PDP squarely through the ballot without compromsing their choice for Wali.

Load more