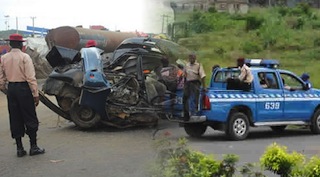 A motor accident, allegedly caused by a staff of the Lagos State Traffic Management Authority (LASTMA), on Wednesday killed two commercial motorcyclists and injured at least eight customs officers.
NAN reports that the incident occurred at Ports and Terminal Multiservices Ltd (PTML), Mile 2, Lagos.
An eyewitness, Mr Peter Uche, said a truck ran into the customs building at the PTML terminal in Mile 2.
Uche said the truck driver, who tried to beat the traffic congestion on the expressway reversed to go onto the service lane.
According to the eyewitness, as the driver was trying to join the service lane, a "camp boy" fronting for LASTMA officials, jump into the driver's seat and struggled to take over the steering from him.
In the process, the driver lost control and the truck skidded off the road rammed into the wall of the customs building which fell on the people around it.
Another eyewitness, Mr Haruna Sanni, a motorcycle operator, said the deceased motorcyclists were sitting on their motorcycles when they were crushed by the truck.
The Group Chief Security Officer of PTML, Mr Oscar Aliu, said the damage was severe.
Aliu said that more than eight customs officers were injured, while laptops and several other working tools were destroyed as a result of the incident.
He said that the "camp boy" had been handed over to the police.
"Customs equipment and imported vehicles brought into the terminal were also damaged. We have not actually taken stock of the damaged cars as well as the equipment but it is colossal," Aliu said.
He said the incident did not affect regular operations in the terminal.
The Public Relations Officer of the Command, Mr Steve Okonmah confirmed the accident
"This is a place where officers and agents gather in large numbers during office hours like this," Okonmah said.
He confirmed that the camp boy had been handed over to the Police.
The Public Relations Officer of LASTMA, Mr Mamud Hassan, said no official of the authority was sighted at the scene of the incident.
"The person arrested was operating in mufti. We have done a lot of publicity and advocacy programmes on this that LASTMA officials must wear their uniforms with their names on their chest.
"None of our officers was seen within that jurisdiction. If they are not in uniform, they are not LASTMA officials," Hassan said.