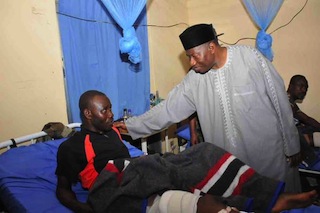 President Goodluck Jonathan has said it pains him to hear that Nigerians flee to Cameroon, Chad as Internally Displaced Persons (IDPs).
Jonathan said this when he visited an Internally Displaced Persons (IDPs) camp in Maiduguri on Thursday. I feel pained as a President when I hear that some Nigerians have fled to Chad and Cameroon Republic as IDPs," he said.
"It is a sad thing talking about the problem of IDPs. Nobody will be happy seeing IDPs every where."
Jonathan said the activities of Boko Haram had created trauma by inflicting harm on Nigerians, adding that, going by the information he had received from security chiefs, the insurgency would be over in a short while.
"Let me assure you that the Federal Government is working hard to ensure that the insurgency is brought to an end so that IDPs do no have to stay longer in camps.
"From the briefs I got from security chiefs, most IDPs will return home soon."
The President said government had rolled out plans to ensure that IDPs returned to their normal activities after the insurgency.
"Government will assist in rebuilding structures destroyed by the crisis.
"We will also assist people to go back to business by providing trade capital to victims after the crisis," he added.
He then called for synergy between federal and state agencies responsible for IDP care to ensure that minimal comfort was provided to them for the duration of their stay in camp.
"Federal and state agencies responsible for IDP care should cooperate to provide care for them at least for the duration of their stay in camp.
"The IDPs are Nigerians like other people and must not be allowed to suffer."
NAN reports that the President was accompanied on the visit by Chief of Defence Staff, Chief Alex Badeh, and Presidential Adviser on Security Matters.
The President also visited the headquarters of the 7 Division of the Nigerian Army, Maiduguri, where he commended Nigerian soldiers for their efforts in fighting the insurgency problem.