Sunday Akintoye
Attention will be shifted to Equatorial Guinea as 2015 Africa Cup of Nations kicks off tomorrow in Bata.
Sixteen African countries are expected to engage in hostilities for the next three weeks to determine who becomes the new King of African football.
Despite the absence of Africa champions, Nigeria, Egypt and Morocco from the competition, the tiny Central Africa country is in exciting mood to welcome all the participating countries.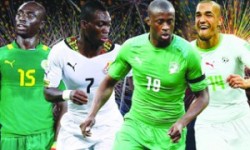 Thousands of African football fans are already in Equatorial Guinea to witness the opening ceremony march past to herald the official kick off of the competition between Equatorial Guinea and Congo in Bata.
Four cities will host games: Bata, Ebebiyin, Mongomo and Malabo. Currently, all the four cities are agog as thousands of African football fans are already in the cities to support their countries in the three-week competition.
To ensure that all the venues fill to capacity throughout the competition, Equatorial Guinea President Teodoro Obiang Nguema Mbasogo bought 40,000 tickets for the fans and urged them to support the national team and cheer their team to victory.
The President Mbasogo early today toured Estadio Mongomo where the Black Stars will take on Senegal in their group C opening fixture on Monday.
The official opening of the tournament is scheduled for Saturday afternoon at the Estadio de Beta where artistes would perform before Equatorial Guinea head coach  Esteban Bekcer and his team  take on Congo.
On security, the Zimbabwe Defence Forces (ZDF) has deployed military personnel to provide services from the beginning to the end.
The security personnel contingent, which is composed of police, soldiers and intelligence, travelled to Equatorial Guinea at the invitation of the country's head of state, President Mbasogo.
In a send-off on Monday, ZDF Commander, General Constantine Chiwenga, urged the security forces to maintain their discipline as they execute their duty.
He urged them to fly the country's flag high in providing the best security service. Zimbabwe is said to be the leading nation in Africa in terms of solid security.