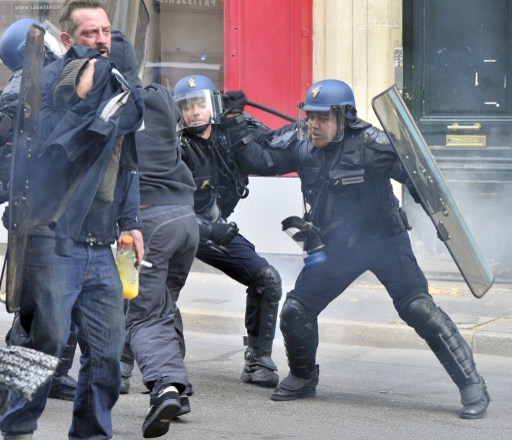 Police fired water cannon and bullets in the air as they clashed with anti-Charlie Hebdo protesters outside the French consulate in Pakistan's port city of Karachi Friday.
The protesters belonged to the student wing of the Jamaat-e-Islami religious party, which is holding nationwide rallies against the depiction of the Prophet Mohammed by the French satirical weekly.
The rallies come a day after Prime Minister Nawaz Sharif led parliament in condemning the cartoons, regarded by many Muslims as offensive, in Charlie Hebdo, whose offices were attacked last week leaving 12 people dead.
Thousands of religious party activists are expected to turn out nationwide, including followers of Jamaat-ud-Dawa, the charitable wing of the banned Lashkar-e-Taiba militant group which masterminded attacks on Mumbai in 2008.
The Jamat-ul-Ahrar faction of the Pakistani Taliban meanwhile issued a statement lauding the two brothers who carried out the Charlie Hebdo assault, saying "they freed the earth from the existence of filthy blasphemers".
"O enemies of Islam beware! Every youth of this Ummah (Muslim community) is willing to sacrifice himself on the honour of (the) Prophet," said the statement, which was sent via email by spokesman Ehsanullan Ehsan.
In addition to rallies held by religious parties, lawyers in central Punjab and northwestern Khyber Pakhtunkhwa provinces have vowed to boycott court proceedings to show their displeasure over the sketches.