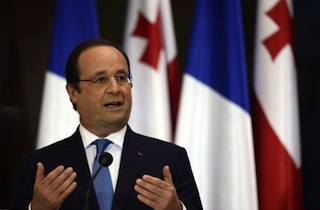 President Francois Hollande stressed on Saturday that France was committed to "freedom of expression" after fresh violence broke out in Niger at a rally against French satirical magazine Charlie Hebdo.
Meanwhile, jittery European nations stepped up security in the wake of last week's attacks in France that claimed 17 lives.
Belgium began deploying hundreds of armed troops to patrol the streets after security forces smashed a suspected Islamist "terrorist" cell planning to kill police officers.
And in London, authorities were mulling "further measures" to protect police "given some of the deliberate targeting of the police we have seen in a number of countries across Europe and the world," said Mark Rowley, head of counter-terrorism for the British police.
British police officers, for the most part unarmed, might be equipped with taser guns as part of reinforced security measures, according to the local press.
Meanwhile, French and Belgian authorities were grilling suspected accomplices both of the Paris gunmen and the alleged "terrorist" cell raided in eastern Belgium.