by Roland JACKSON/AFP
The surprise surge in the Swiss franc left currency brokers and banks worldwide licking their wounds on Friday, with at least two brokers declaring insolvency and others warning of heavy losses.
Switzerland's central bank shocked foreign exchange (forex) and other financial markets on Thursday when it scrapped its three-year bid to stop the franc from strengthening.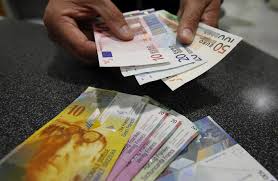 Within minutes the franc surged by 30 percent, later settling to a 15 percent gain against the euro.
The shockwaves were felt in currency markets across the globe and some brokers could not withstand the jolt.
In London currency broker Alpari UK — sponsor of English Premier League football team West Ham United — declared insolvency after clients' losses linked to the sharp rise in the franc were passed on to the company.
That followed a similar announcement by Global Brokers NZ in New Zealand declaring "a total loss of operating capital".
And in New York leading forex broker FXCM was forced to seek a $300 million rescue from Leucadia National Corp after clients left it with losses of up to $225 million (194 million euros).
Major players were humbled by the brutally quick turn of fortune.
"The recent move on the Swiss franc caused by the Swiss National Bank's unexpected policy reversal of capping the Swiss franc against the euro has resulted in exceptional volatility and extreme lack of liquidity," Alpari UK said in a shock statement.
"This has resulted in the majority of clients sustaining losses which has exceeded their account equity. Where a client cannot cover this loss, it is passed on to us.
"This has forced Alpari (UK) Limited to confirm today… that it has entered into insolvency."
In Auckland, Global Brokers NZ announced it was closing after it sustained losses that meant it could no longer meet New Zealand regulators' minimum capital requirements.
In that sense, FXCM was lucky to find a savior. Leucadia, parent of investment bank Jefferies Group, injected the funds via a two-year loan that will cost FXCM a hefty 10 percent annual coupon.
"We could not be more grateful to Leucadia and its team for their rapid and effective response and to our regulators, who have been willing to work with us through this challenging process," said Drew Niv, FXCM chief executive.
"Leucadia's support and this financing are by far the best alternative for FXCM, our customers, our shareholders, and all other relevant constituencies."
In London, IG Group said that its losses arising from the matter would total up to £30 million (39 million euros, $46 million), but stressed its "extremely robust financial position".
Rival City Index meanwhile reassured clients that it had not suffered "any material impact".
And in New York shares of Interactive Brokers lost 6.65 percent in early trade Friday after having warned that some clients had reported losses totalling around $120 million.
– Banks burned –
The Swiss central bank had been defending a floor of 1.20 francs to the euro for three years in an effort to protect Switzerland's vital export and tourism industries.
Many investors had been buying Swiss francs as a safe haven currency, pushing its value up and hurting the country's international competitiveness.
But with the European Central Bank expected to flood the market with euros next week, the Swiss central bank would have faced more pressure to defend the floor.
After dropping as low as 0.8517 francs against the euro, it has stabilised around the level of parity.
The Swiss surprise also wrong-footed a number of big banks.
British bank Barclays lost "tens of millions" of dollars, according to a source who requested anonymity.
The bank, whose shares slumped 1.6 percent, declined to comment on its losses tied to the Swiss franc.
Deutsche Bank lost on the order of $150 million, according to a report by the Wall Street Journal. The German bank declined to comment when contacted by AFP.
Bloomberg meanwhile reported that Citigroup lost more than $150 million on the Swiss move.