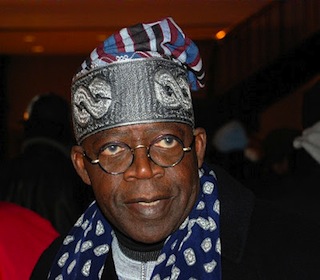 Former Lagos State two-term governor and the national leader of the All Progressives Congress (APC), Asiwaju Bola Ahmed Tinubu, has been described as an authentic Yoruba leader for his "incredible political prowess and unmatched achievement of taking a regional party into the centre-stage of Nigerian politics".
Given the commendation was Otunba Oyewole Fasawe, during an interaction with youths at his Owo, Ondo state country home.
Otunba Fasawe, a friend of former vice-president Atiku Abubakar and former president Olusegun Obasanjo said Tinubu's feat was only comparable to that of the late sage and Premier of the then Western Region, Chief Obafemi Awolowo.
Fasawe, who is also the Asiwaju of Owo said:
"There is no need to hide a good product. Tinubu has paid his dues and perfected the art of returning the Yoruba political wheel back onto the national track, just after 8 years that an illustrious and proud Yoruba son (Olusegun Obasanjo) handed over the mantle – a feat only few people would have anticipated. What he started in a little way years back with just one State (Lagos) in his kitty has now grown into an empire of immense proportion across the nation; with the support of other progressive leaders across board i.e. Muhammadu Buhari, Atiku Abubakar, current and former Progressive Governors, Senators and Members of House of Assembly etc. For that he deserves kudos and encomiums."
"Today the APC, of which Asiwaju is a National Leader, is Nigeria's main opposition party with strongholds all over the country – all thanks to Tinubu's purposeful audacity and analytical sagacity as an adept manager of human and material resources.
"Recently, he even acknowledged his successor, Babatunde Fashola, whom he gave a pat on the back, although he laid the foundation of that success. He is no doubt the modern day Awo of Yorubaland, a pivotal and champion of good governance, welfarism and communal development."
Fashawe added that Tinubu has proven to be an experienced political warhorse that has fought many battles on the side of the progressives, dating back to the great days of Awo and the democratic struggle against military dictatorship – as NADECO chieftain and now a leading opposition politician.