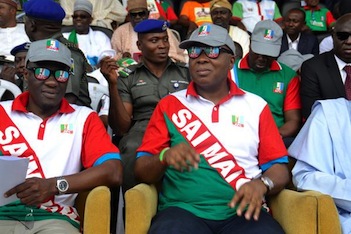 Governor Abdulfatah Ahmed of Kwara has promised to create more jobs for youths in the state if re-elected.
Ahmed made the promise on Saturday while addressing party supporters in Omupo, Ifelodun Local Government Area of the state.
The governor said he would focus more on job creation while enhancing infrastructural development across the state.
Ahmed, who lamented the continuous dwindling federal allocation to the state, said his administration had tackled the developmental challenges in the state while paying workers' salaries as at when due.
"Despite the deep shortfall in the federation allocation to the state, my administration has not failed in regular payment of workers' salaries and we will not fail in our obligation in that regard," he said.
The APC gubernatorial candidate said although shortfalls in revenue allocation was affecting service delivery, his administration had devised proactive strategies to create more funds to finance infrastructural development.
Ahmed advised the people to collect their Permanent Voter Card so that they would not be disenfranchised in the February elections.
The APC campaign team visited Igbaja, Oke-Ode, Babanla and Oro-Ago in Ifelodun Local Government Area of the state.