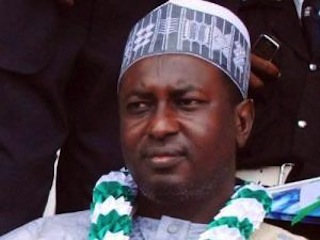 Governor Mukhtar Yero of Kaduna State has been caught on tape threatening violence against the All Progressives Congress (APC) should his team be attacked while campaigning.
Speaking in Hausa language to his supporters, Yero vowed swift "revenge" if ever attacked by any one "born of woman".
"If you are born of a woman, please pelt us with stones, when we go out for campaigns. We dare you to destroy or burn our vehicles. Burn our House," the governor said.
According to The Nation, he added that, "I swear by Allah, anyone who does any of these things, we will revenge."
In a rather crude manner, the governor threatened Malam Nasir El-Rufai, former Minister of Federal Capital Territory and the main opposition to Yero's re-election bid.
"If I say you should not come to Kaduna, I swear you cannot come. If I say you should not leave your house, I swear you cannot leave," Yero said.
"If I say they should demolish your House, I swear by Allah, they would demolish it immediately. If you think we cannot do it, try us and see, continue with what you are doing, by God's grace we will show you."
But following the outrage sparked by the threats which were first published by the online outfit -Premium Times – the governor went on radio yesterday to deny issuing any such threats.
He said he only urged his supporters to rise up and defend themselves whenever the opposition attack or attempt to destroy their property.
The governor in the phone-in programme in Kaduna said he could not have uttered the statement attributed to him.
He appealed for calm before, during and after the forthcoming elections, adding that, as an advocate of peace right from his early years, his prayer is
that people should conduct themselves peacefully and be allowed to vote for persons of their choice without intimidation or force.
He said: "those who know me know that I am an advocate of peace and since I became governor of the state, I have been doing all I could to ensure that we have peace in the state.
"In fact, my love for peaceful coexistence in spite of provocations could be why some were saying that I am too patient to a fault. I have never made any provocative statement, despite the fact that I've been insulted on Facebook and in other places. Those working with me, I admonish them every day on the need for peace."