Jamiu Yisa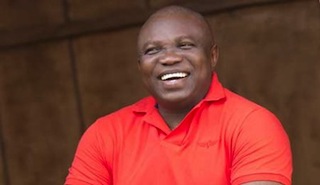 The Lagos State chapter of the Peoples Democratic Party (PDP) has accused the governorship candidate of the All Progressives Congress, Akinwunmi Ambode, of breaching section 91 of the electoral act 2010 as amended, which stipulates that a maximum of N200,000,000 is permitted to be spent by a governorship candidate on campaigns and therefore wants him disqualified by the Independent National Electoral Commission, INEC.
In a statement signed by its Publicity Secretary, Taofeek Gani, and made available to P.M. NEWS, the party alleged that its intelligence team has detected that Ambode has spent at least N6.7 billion on campaign strategies.
He stated that these includes employment of expatriates to run his campaign, placement of board adverts, radio and television jingles, souvenirs, vehicles, campaign houses etc.
Gani added that this was responsible for the diversion of the over N32 billion Local government funds for three months as released by the federal government into Ambode governorship campaigns.
The party also claimed that Governor Babatunde Fashola has deployed all government properties and paraphernalia which includes; BRT/LAGBUS; pedestrian bridges; school fences; government offices; roads; state media outfits among others to mention a few to support the APC candidate's campaign.
The party further accused Fashola and Ambode of flouting the electoral act and INEC rules on civil campaigns by always attacking the person of Jimi Agbaje, the PDP candidate at their rallies.
The PDP therefore called on the Economic and Financial Crimes Commission, EFCC, to interrogate Ambode whilst demanding that INEC summarily disqualified the APC candidate from contesting the February 28 governorship election.
"We are not worried that Ambode's campaign is aggressive. It in fact suggests that the APC has nothing to be comfortable about in their governance for 16 years. We are however uncomfortable because Ambode has spent over N6.7 billion on his campaigns and this fund is made available by Fashola who is now starving the local government councils of fund.
"Fashola is very unfair to Lagosians. He has abandoned governance and now attending rallies with Ambode. Laughably he does not see any achievement to mention at such rallies but to cast aspersions on our candidate, Jimi Agbaje.
He has deployed all state advantages to support Ambode. We call on well meaning Lagosians to condemn this actions. It is our expectation that Fashola would stop his obvious support for Ambode at the expense of governance in the state. Indeed we demand that Ambode be disqualified now," the party demanded.