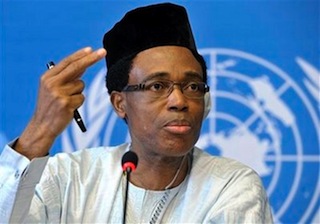 The Federal Government on Monday appealed to the Indonesian government to show clemency for 12 Nigerians convicted of drug crimes in that country.
The Permanent Secretary, Ministry of Foreign Affairs, Amb. Danjuma Sheni, told newsmen after an audience with the acting Indonesian Ambassador, Eko Indiarto, who was invited for discussions.
NAN reports that two Nigerians, namely: Solomon Okafor and Daniels Enemuo, were executed by firing squad for drug crimes, while 12 others are currently on death row.
"Every country determines for itself the kind of action it takes. In the case of Nigerians and as you have just seen, we have protested very vehemently the execution and we are still looking at other options.
"That (recalling Ambassador) may be along the line, but we are looking at other options.
"I have just appealed to the government and people of Indonesia to show some clemency as we move forward with regards to the 12 other Nigerians still on death row in that country.
"We hope at the end of the day, there will be some form of clemency for our people and we do not hope, as of now, that it will have any significant impact on our relationship."
Sheni said Netherlands and Brazil had already recalled their ambassadors to Indonesia following the failure of the Indonesian government to heed their pleas against the execution.
He, however, said he summoned Indiarto to express Nigeria's displeasure over the execution even after the personal intervention of President Goodluck Jonathan and the National Assembly.
The permanent secretary urged the Indonesian authorities to commute the death sentences to various jail terms.
NAN reports that two women – one each from Indonesia and Vietnam, two Brazilians, and a Dutch were also executed along with the two Nigerians.
Meanwhile, the Federal Government has said it will continue to negotiate with the Indonesian authorities to reach agreement on a Prisoner Transfer Agreement.
According to it, the agreement may enable other convicted Nigerians to return home to serve their jail terms.