Funsho Arogundade
Friends and colleagues have been expressing their grief over the death of Nollywood soft porn star, Muna Obiekwe, who was said to have died of a kidney related ailment on Sunday afternoon in Lagos.
P.M.NEWS gathered that Muna died in a Lagos hospital where he was rushed to after he collapsed at his home in Festac Town, Lagos State, western Nigeria.
The actor was said to have been silently battling the kidney disease but kept it away from friends and colleagues despite pleas from his wife.
He was said to be working quietly at raising fund without  appealing to the public for aid to take care of his treatment.
He was personally footing the bills for the dialysis he was undergoing until sometime two weeks ago when he stopped going for dialysis.
"Muna needed money for his health problems but instead of going public to raise money, he told friends he was planning a stage play to raise money but died before he could do it. Unbelievably sad!," said one of his colleagues.
Others have taken to their social media platforms to express their condolences and shower tributes on their fallen colleague.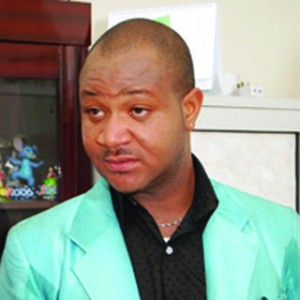 Mike Ezuruonye, Muna's friend and colleague, cried out on his Instagram: "So sad…Muna whyyyyyyy…Ohhh…whyyyyyy…RIP bro. Nollywood loses another…Whyyyy…"
Actress/producer Uche Jombo also wrote on her Instagram page: "It's not the length of life but the depth of life, RIP Muna."
"Thot u would make it after all the wahala bro, it is a final rest bro," actress Ejiro Okurame wrote.
Another actress, Ify Okeke was said to have expressed bitterness that Muna's friends didn't make the issue public for others to offer support so that he could receiv help and better treatment.
Shaibu Husseini, a film critic, said: "I consider the death of any creative artiste a personal loss, not even when it is someone I know. If it is true that the ripper has done its worst, I will totally submit to God and say good nite to a friend and the steady actor Muna Obiekwe a.k.a. Munalistic. You fought a good fight bro and you left a mark. Rest well."
Prior to his ill-health, Muna was known to be an habitual drinker and smoker. It was gathered that his doctor had given him a ray of hope, assured him that his worse fear of Kidney transplant might not happen if only he could do up to 20 dialysis and stay away from alcohol. But Muna was said to have ignored the alcoholic prohibition. He was on his tenth dialysis when he died on Sunday.
"The dialysis was expensive for Muna. He was doing two in a week sometimes. And he would need blood injection on each occasion. Each appointment cost him between N250, 000 to N300, 000; money he did not really have to spend. His health was eating deep into his purse yet Muna refused to go cap in hand begging for alms. He was a private guy who didn't want the press or his colleagues to feast on his pain, and cast aspersions on Nollywood's industry of beggars," a source told iCampusng, an online news portal.
His death  increased the number of those who have died in recent years within the creative industry, a sad situation which has force many to encourage the celebrities to embrace healthy lifestyle and take up health insurance policies.
Well loved by his fans for his very interpretative roles in movies, Muna,  who lost his parents in a ghastly motor accident a few years ago, lived a very private life. He lived in Festac with his wife with whom they have two girls.
He was said to have also had twins from a lover who lived abroad but shielded that aspect of his life from the prying eyes of the public.
Meanwhile, P.M.NEWS learnt that when artistes under the leadership of Ibinabo Fiberesima, president, Actors Guild of Nigeria, AGN, and Segun Arinze, former AGN president, met with President Goodluck Jonathan recently, they had asked the president to integrate the creative industry players into the National Health Insurance Policy, apart from passing the National Film Policy.
The president was said to have assured he would look into their request but with the death of Muna, the industry hopes government would expedite action on their request.

Load more