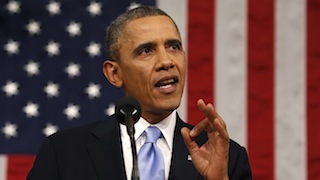 Day after day from morning to night, a small cadre of wordsmiths searches for the right message, tone and cadence for the US president to speak to the American people.
When President Barack Obama delivers his State of the Union address Tuesday in Congress, it will be the capstone of weeks of work for a team of White House speechwriters.
"It is a massive undertaking, the process starts really early around Thanksgiving," in late November, said Jeff Shesol, a speechwriter for former president Bill Clinton who worked on his 2009 and 2010 State of the Union speeches.
Clinton demanded a first draft before the Christmas vacation break to prepare for this highlight of American political life.
The White House currently has nine speechwriters. A number of them also work for First Lady Michelle Obama and other officials and executive bodies.
At the White House, aboard Air Force One, between hotels, they live at the pace of the president's hectic schedule.
The job is traditionally discreet, and often demanding, given the president's need to speak on breaking news as well as in formal settings such as the all-important State of the Union address delivered in the heart of Congress.
Presidential aides "should be possessed of high competence, great physical vigor, and a passion for anonymity," according to the 1937 Bronlow Committee report that recommended sweeping changes to the executive branch when president Franklin Roosevelt was in power.
The job can be grueling, but speechwriters know their time at the White House makes for an effective launchpad for the rest of their careers in politics or the private sector.
– 'Extraordinary job' –
"It's an extraordinary job," said Adam Frankel, who was part of Obama's writing team until 2011 and highlighted the president's taste for good writing.
"He is a gifted writer and he also has respect for the writing process and understands what that process is like. He is very involved in the writing process from the very beginning."
Chief Speechwriter Cody Keenan, the lead writer on the State of the Union address, has compared the work to graduate school.
"You get a paper assignment, you might pull an all-nighter or come in really early to finish, and you hand it in and then you get his marks back and find out whether he likes it or not," said Keenan, 33.
"The good thing is he'll make detailed edits when he gets the speech, and he's generous with his time — he'll walk us through the edits and explain why he made them," he added in an interview with Harvard University's John F. Kennedy School of Government.
The difference, Shesol noted, "is that you just don't get a grade and move on to the next assignment, you are going to rewrite this one again and again."
In their small and exclusive world, some figures stand out, including Ted Sorensen, one of the few writers who got to pen words for president John F. Kennedy. He had an immense asset by also serving as the president's special counsel and adviser.
At Kennedy's side daily, Sorensen was in a prime position to understand the president's thinking and worldview.
For all his successors, the question of access to the president, if not always easy, is central to the job.
– Historic speech –
The first State of the Union speech was delivered in January 1790 by George Washington. It was only a simple document back then, closer to an administrative report for Congress than a policy platform.
It was Woodrow Wilson who began the practice of presidential speeches to a broader audience in 1913.
Paradoxically, these moments of supposed great policy import where the country's president unveils priorities for the coming year have rarely yielded historic discourse.
But there is at least one notable exception: the 2002 speech by George W. Bush during which he branded Iraq, Iran and North Korea as members of an "axis of evil." The phrase would become emblematic of his polarizing presidency.
If the texts are sometimes forgotten, the chief executive's annual trip to Congress remains a solemn moment.
Shesol calls it an "incredible ceremony" at the packed chamber of the House of Representatives.
The audience is full of emotion over a speech that has been written and rewritten numerous times.
"To have played some role in writing the words that the president is saying is a thrill that is hard to describe," Shesol said.
By Jérôme Cartillier/AFP