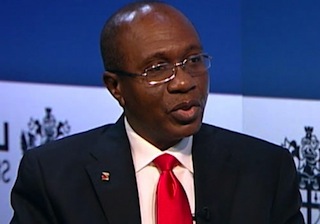 Nigeria's central bank kept its policy rate at 13 percent on Tuesday, offering no new measures to deal with a record low currency and inflationary risks linked to a collapse in world oil prices.
Governor Godwin Emefiele noted that inflation remained within its targets although there were risks ahead, and said the naira was "appropriately priced". The bank would "not tolerate speculative attacks on it", he said.
The bank has struggled to keep the naira in a new trading range since devaluing it by 8 percent against the dollar in November in a bid to halt a slide in its reserves.
The currency has continued to weaken as Africa's biggest oil producer has been hit by the slump in oil prices and as a strong U.S. dollar has hurt emerging market currencies. It ended at a record closing low on Tuesday ahead of the central bank rate decision, and has been trading well below its targeted trading band.
Emefiele said reserves at the end of last year were equal to eight months of import cover. But analysts expect the bank will be forced to devalue again soon after an election on Feb. 14 when President Goodluck Jonathan will seek another term.
Aly-Khan Satchu, portfolio manager at Nairobi-based Rich Management said the rate decision was taken "in the teeth of a raging insurgency and an extraordinary collapse in the price of oil".
He added that "The currency is headed to 220 … and Emefiele's finger in the dyke strategy is about to be overwhelmed by a tsunami."
The naira closed at 189.20 against the dollar, falling 1.1 percent on the day despite an intervention by the central bank, which has a target band of 5 percent plus or minus 168 to the dollar.
The bank kept its benchmark interest rate at 13 percent after raising it at its last meeting in November for the first time in two years, by a hefty 100 basis points.
That helped contain inflation, which rose only marginally in December to 8 percent, despite the weak currency.
FINANCE MINISTRY STICKS TO BUDGET
Major oil producers have all seen currencies hard hit by the fall in oil prices.
Brent crude is currently trading at $48 a barrel. Nigeria's Finance ministry said on Tuesday it would not modify its benchmark price in the budget, currently $65 a barrel.
"The price of oil is still quite volatile and we do not know how it will bottom out," the ministry said in a statement, adding that the shortfall would be plugged by "additional measures both on the revenue and expenditure side."
Nigeria's debt is low compared with developed economies but the government failed to save money during the boom times, instead seeing billions of dollars withdrawn from its oil savings account.
The bank's Monetary Policy Committee retained the liquidity ratio at 30 percent at its meeting on Tuesday, and held the cash reserve requirements on public deposits at 75 percent and the private sector deposits at 20 percent.
*Source: Reuters/NAN